By Marc Tobias
mtobias@dailystandard.com
Minster came up with a 6-3 victory over New Bremen in the ACME district championship game at Westview Park yesterday to move itself into the state ACME tournament at Bryan for the first time ever.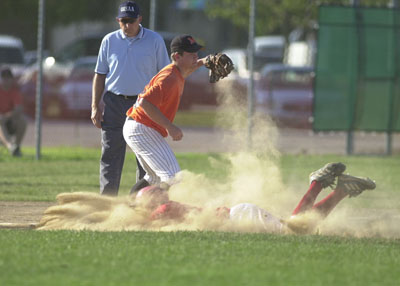 Minster now plays at noon on Saturday against the champion of district five, which consists of teams from Shelby, Miami and Montgomery counties.
"We've never been this far before and I kind of walked into a situation this year with a pretty loaded team," said Minster coach Austin Kaylor. "We kind of struggled in the month of June, but once we got everybody here at the end we knew we had something pretty special."
It wasn't an easy win for the Wildcats, as they had to score five runs in the last two innings to pull out the come-from-behind win.
New Bremen actually controlled the game for the first five innings, and led 3-1 heading into the top of the sixth inning. The Cardinals bid for a state berth slipped away when its defense was unable to close out the game.
New Bremen committed five errors in the last two innings, allowing Minster to score five unearned runs and walk away with the victory.
"Tyler Ranly came out and threw a great game, we just struggled defensively in the late innings," said New Bremen coach Justin Firks. "It's tough when you give up one hit in an inning and they score four or five runs. We just couldn't make plays when it mattered, but it's a sign that we need to take our game to the next step and overcome that obstacle where we have a lead and finish the game strong. Tonight we didn't do it, but next spring I think we will."
Minster had its first three runners reach base on errors to start the top of the sixth inning.
Jake Luttmer who led off the inning for the Wildcats scored on the third error in which Zac Boeke reached. After a walk to Eric Bernhold, a Dan Mueller single plated Boeke and tied the game at 3-3.
Minster starter Justin Spillers then retired the Cardinals in the bottom half of the sixth with little trouble, and the 'Cats once again got the ball rolling with a New Bremen error in the seventh inning.
This time Bobby Inskeep reached on the Cardinals miscue and he quickly stole second. Inskeep was then caught off the bag when Wes Sherman hit a grounder to third base, and he found himself in a run-down situation. Somehow the Wildcats third basemen managed to wiggle himself out of it and reach third base while Sherman made it to second.
A Jake Luttmer two-run single plated both runners and put the 'Cats on top for good at 5-3.
Luttmer scored on another New Bremen error and gave the Wildcats a three-run cushion heading to the bottom of the seventh.
Spillers once again retired the Cardinals to pick up the complete-game victory. Minster had four complete games in its four tournament games, two by Spillers and two by Dusty Ellis.
"The chips fell the way we needed them to as far as pitching goes. If you can stay in that upper half of the bracket it's a helluva lot easier on your arms and that would have especially became evident tonight if there was a second game, but we were happy to get it done in one," said Kaylor. "Give a lot of credit to them, they put the heat on us for five or six innings."
The pitching carousel wasn't as kind to New Bremen, who had to play an extra game since it came through the loser's bracket.
"Losing the game against Minster the other night definitely hurt, because we had to throw our number one (Alex Leugers) against Crestview just to advance to this game," Firks said. "We were running short on arms, Tyler threw a great game but it's a long tournament and going through the loser's bracket wears down your pitching. We just kind of ran out of arms in the end, and I don't know who we would have thrown in the second game."
Inskeep and Bernhold led Minster with two hits apiece while Luttmer added a 1-for-4 day with three runs scored and two RBI.
Scott McCollum was the only Cardinal to have a multiple-hit day as he went 2-for-3 with an RBI and stolen base.
New Bremen ends its season at 10-10 and 3-2 for the tournament, but Firks said it was a good run while it lasted.
"It was the first time they got this far since 1965," Firks said. "The kids have grown up emotionally and physically and I'm proud of all of them, they've worked hard. I can't be down on them, they gave me all they've got and that's all I expect."
Minster improves to 17-9 on its summer campaign.
Phone: (419)586-2371, Fax: (419)586-6271
All content copyright 2004
The Standard Printing Company
P.O. Box 140, Celina, OH 45822