By Betty Lawrence
blawrence@dailystandard.com
WILLSHIRE -- What is a meal of fried chicken and mashed potatoes and gravy without homemade noodles?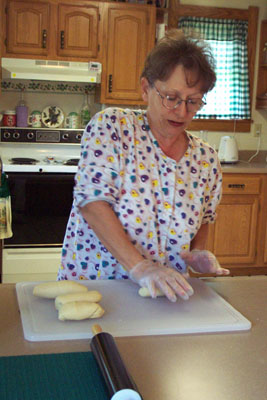 It's like pumpkin pie with no whipped cream or chips with no salsa.
Mercer Countians love their noodles. Maybe it's the German heritage of many area residents, or maybe it's just because they taste so darn good.
Whatever the reason, noodles are an essential staple in many local kitchens, rural Willshire residents Mike and Shirley May have discovered. The couple recently launched a home-based noodle business -- Buzzard Hill Noodles.
"We had a garage sale last fall at our house and the homemade noodles went real fast," Shirley May said during a recent interview at their country home at 5995 state Route 81. And the rest is history.
The couple has sold 700 pounds of the egg and flour delicacies since.
They have perfected their egg noodle recipe, passed down from Mike's mother, Esther. They now offer regular noodles in wide or thin and also sell seasoned noodles in hot, chili, Italian and garlic.
Not content with making the common egg noodle, the creative couple also is working on a chocolate dessert noodle.
"Actually, Mike makes the chocolate noodles. I don't even know his recipe," Shirley May says.
"I'm the choc-a-noodle dude," Mike May says with a grin.
He is still perfecting the recipe and plans to send a sample to television cook guru, Emeril "Bam!" Lagasse.
"I saw on one of his programs where he made a chocolate noodle and the recipe was on the Internet. I got it and tried it, but it was awful. When I get done, I'm going to send him a sample to show him what a real chocolate noodle tastes like," Mike May says.
The brown chocolate noodles have raised many eyebrows, the couple says.
"You can warm the noodles up, but not too much, over the stove top or in a microwave," Mike May says, before serving a dish of vanilla ice cream topped with warmed up chocolate noodles, whipped cream and nuts.
The key to making good noodles is to weigh the flour, the couple says.
"Always weigh it because two cups of flour doesn't mean you have 16 ounces and keep an eye on the humidity levels," Shirley May advises. "Humidity affects the noodles a lot. If it is humid, the dough will stick and won't dry right. Also, don't work with your dough a lot. The less you knead it, the better. Noodle-making really is a science."
They do not salt their noodles, and there is no food coloring or preservatives in them.
After kneading the noodle dough with vinyl-gloved hands in the kitchen, the Mays allow the dough to rest awhile before it is taken to the basement to be flattened and cut into noodles with an electric noodle maker.
Mike May built a portable drying rack for his chocolate noodles, and 60 feet of other racks hold noodles that are dried before being packaged into 1-pound plastic bags.
"The noodles don't have a shelf life of more than two months. If we have any after that time, we eat them ourselves," the couple says.
The company was named Buzzard Hill Noodles by an uncle, who has noticed the black turkey buzzards that visit the couple's country home each spring. The buzzards perch on top of a barn and stay for about a month, Shirley May says.
Her goal for the company is to sell a bag of noodles in each of the 50 states -- with seven already down.
Mike May, who works at Federal Mogul Corporation in Van Wert, says the couple plans to be noodling full-time when he retires. His wife is a retired nurse.
The butcher, the baker, the candlestick maker, they all love and buy the Mays' noodles.
"We supply everyone we know, our barber, our doctor, our banker. They all know where to get their noodles," Shirley May says.
Caraway noodles and possibly spaghetti noodles may be made in the future.
"I'm always open to suggestions. If I can make a noodle out of it, I'll try. What can I say. If you have a noodle, you have a meal," Mike May says with a big smile.