By Shelley Grieshop
sgrieshop@dailystandard.com
Sweat dripped from Kenneth Laux's brow and wood chips flew in all directions as his noisy chainsaw cut through a fallen spruce tree in his backyard.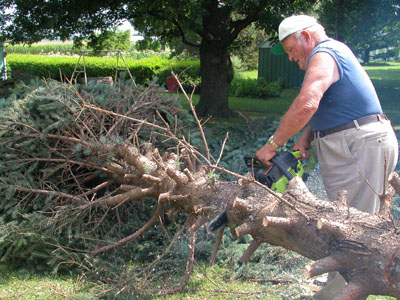 It was an amazing sight. Towering spruce trees get chopped down every day -- just usually not by 85-year-old men.
"The lady next door nearly has a heart attack when she sees me do things like this," smiled Laux of Myers Road in Celina.
His daughter, Laura Schmidt, just shook her head. She's never been able to slow her dad down, she said. The father of eight mows three acres of land surrounding his home and tends to a huge garden that is the envy of the neighborhood.
"He's amazing. I hope to have that longevity and wit when I'm his age," she said. How do some people stay so agile and active while others lose the aging battle early? Some experts believe it's all in the genes, but most agree regular exercise increases the quality of life after 50.
"Probably the biggest thing anyone can do to maintain flexibility is to adopt a simple stretching program," said Heidi Lemmerman, a licensed physical therapist with Community Sports and Therapy based in Celina.
Lemmerman said muscles tend to tighten even on young people, when they sit behind desks all day. A daily stretch, especially of the lower extremities and trunk, can ward off muscle injury, especially for "weekend athletes."
"It also helps with posture," she added.
A basic stretching routine can take just 5 to 10 minutes a day. Suitable stretching programs can be obtained from a family doctor or physical therapist, or even the Internet and health magazines, she said.
However, Lemmerman warned participants to start slow. Senior citizens should contact their physicians for approval before beginning any exercise program, she warned.
The average global life expectancy when Laux arrived home from World War II in the mid 40's was just 45 years. Today, life expectancy in developed countries is 75-80.
We're living longer due to medical technology, but exercising less, health officials say. Even the elderly can improve their overall health one step at a time, Lemmerman said. Walking is the number one exercise in America right now for people 65 and over; swimming is second.
The American Physical Therapy Association, of which Community Sports and Therapy is a member, suggests several mild activities for seniors including gardening, golf, water aerobics and even traveling.
"Just getting out of the house to do a little physical activity is a boost for your mental health, too," Lemmerman said.
And you don't have to belong to a fitness center to get healthy.
"I just saw an 84-year-old woman this morning who had the best hamstring muscles I've ever seen," Lemmerman said. "Her secret is just staying very active."
Laux still hits baseballs at family reunions and climbs scaffolding to work on his house, said his wife of 55 years, Marie. He boasts military service under Gen. George Patton's 3rd Army, but it's his 23 grandchildren and great-granddaughter who follow him around like good soldiers, learning from the pro.
"Now they know how to cut down a tree," laughed Lemmerman, who retired in 1980 from the former Pet Milk plant in Coldwater.
"Grandpa knows how to do it all," added grandson Joe Schmidt, 14.

Seniors statistics:
Here are a few tidbits about seniors:
´ May is Older Americans Month and has been since the first presidential proclamation in May 1963.
´ There were 35.9 million Americans age 65 and older on July 1, 2003; by 2050, the number is expected to increase to 86.7 million.
´ $23,152 -- the median 2002 income of households with residents age 65 and over.
´ 10.4 percent -- the poverty rate for people age 65 and over in 2002.
´ 9.1 million -- estimated number of military veterans age 65 and over.
´ 4.5 million -- number of people age 65 and over who are still employed.
´ Among people 65 to 84, 74 percent of men are married and living with spouses, compared to only 45 percent of women.
´ 58,684 -- estimated number of centurians in the United States.