By Lance Mihm
lmihm@dailystandard.com
ST. MARYS -- In 17 years as superintendent of the St. Marys City School district, Paul Blaine has had to handle his share of controversy, particularly in the last two and a half years.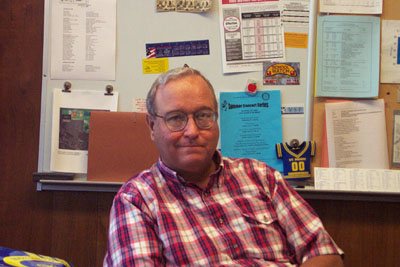 Blaine has been hired as a full-time associate professor of education at Bluffton College. Blaine will teach primarily undergraduate students and groups of graduate students from time to time.
However, Blaine leaves his post with few regrets, an undeniable love for the town, and what he says is a school district in better shape.
"I've always loved this community," Blaine said. "I like the people, the size and the services available. I felt comfortable as soon as we moved here.
Blaine moved to St. Marys in 1987 with his wife, Holly, and his three children to take over the superintendent post from Richard Burke. Blaine is one of only five superintendents the district has had since it officially became the St. Marys City School district in 1903. His eldest daughter, Kristin, is now 25 and entering her final year in veterinary medicine at Ohio State University. His only son, Tom, now 23, works as a chemical engineer with Air Products Corp. in Louisiana. His youngest, Jennifer, will be a junior this fall at Wittenberg University.
Blaine said academic accountability is one of the biggest changes that has occurred in public education since he started his long tenure as head of the district.
"There is now an accent on accountability," Blaine said. "We want to make sure a diploma not only represents time spent in school, but also that significant learning has taken place."
Blaine feels the district has done well in that area.
"That is a significant reason why our graduation rate has gone up 27 percent," Blaine said. "And we did it during a time when graduation requirements were increased twice and proficiency tests became mandatory for graduation. In spite of the added challenges, students are graduating in our district at a much higher rate."
Blaine also spread the credit around.
"These are not just Paul Blaine numbers," he said. "Its a real credit to the community, the teachers, the administrators and the school board. It takes everyone to make it work."
Blaine grew up in Brecksville, a suburb of Cleveland. He decided in his sophomore year of high school he wanted to become a science teacher and majored in chemistry at Baldwin-Wallace College.
Blaine got his first teaching job while he was still in college. He taught at Avon High School as a science teacher and commuted each day from campus. After graduation, he became a science teacher and soccer coach at South Euclid-Lyndhurst City Schools. He also was an elementary teacher for nine years before taking a job in the Logan Elm School district as elementary principal and, later, as director of instruction. That was the post he left for St. Marys.
He brought with him to St. Marys what he said he feels were his strongest attributes -- his knowledge of school finance, law and curriculum. Blaine said a weak point was an inability to remember names well.
"I feel confident the district is in better shape than when I came in," Blaine told The Daily Standard. "In its education program, its facilities, its finances and its faculty. I am also confident that Mr. (Ken) Baker will help achieve some of the goals we set out to achieve."
Blaine's one regret is that the community last November turned down a chance to take part in the Ohio School Facilities Commission Program to build new school facilities.
"I was very frustrated," Blaine said. "It's particularly frustrating because it is hard to imagine ever being able to get a better deal than what the (proposed) bond levy represented."
Despite problems in the last two and a half years, Blaine said he thinks the community is going in the right direction.
"I'm an optimist," Blaine said. "This community and school system have so much going for them. I believe they will put aside personal issues and personal division. The future of this district is very bright if they do."
Joyce Finke, who has been a school board member for 15 years under Blaine, said he will be missed.
"I think he has been an excellent superintendent," Finke said. "I think we will particularly miss his expertise in finance and the fact that he was so passionate about children."
"He gave 17 years to our schools and should be congratulated for that," board member Craig Gottschalk said. "We all wish him the best of luck in his future endeavors."

District statistics:
The following are some statistics comparing the St. Marys City School district during the 1987-1988 school year, Blaine's first as superintendent, to the 2003-2004 school year.

1987-88 2003-2004

enrollment 2521 2432
graduation rate 72.3% 99.5%
attendance rate 95.6% 96.3%
No. of computers less than 100 over 850
avg. elementary class 24.7 20.9
base teacher salary $16,400 $28,450
max teacher salary $31,816 $55,393
annual expenditures $7.7 million $16.9 million
expenditures per pupil $2,825 $6,900
assessed district value $100.2 million $232.8 million
effective millage 26.63 26.83
true days cash 29 45

The following were Ohio Tests of Scholastic Achievement state champions during Paul Blaine's tenure as superintendent:

1987 Charles Moul geometry
1996 Kristin Blaine English 11
2001 Jim Coons senior social studies

There were also 12 National Merit Scholarship finalists and semifinalists.