By Janie Southard
jsouthard@dailystandard.com
Do-it-yourself home decorators who've wondered where to get those great, big vases seen in magazines now can just troop into the Potter House at 108 S. Main St.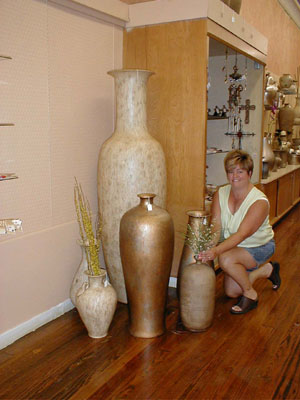 "The vases can be used indoors or outside," says store manager Bonnie Rutschilling as she stands beside a 6-foot-tall grainy gold vase.
The various pottery pieces in the shop are eye-catching, but the main focus of the shop is the ceramic painting studio in the back, according to Rutschilling of Celina.
Store owner Kim Nation, whose maiden name was Potter, hence the Potter House, has arranged the shop for birthday parties, girls-night-out parties or individuals to come in and paint a piece of ceramics. Nation of Celina then will fire the piece in her kiln.
"Prices start at $5.99 and include the greenware, paints, firing, glaze and two hours of studio time. We have a variety of items to paint including a full set of dishes, which would make a good bachelorette party. Each person could paint a piece of dinnerware for the bride," Rutschilling says. Throughout the store is a wealth of unusual items: floating candles shaped like martini olives, small glass cherries, a very small piano that is actually a wine rack and a lot of uniquely named food items.
"Here's an herb dip called Hotter than Holy Moley; and here's She's the Boss Chili Sauce. We like the funny names plus the food is really good," Rutschilling says.
There are also various brainy games for kids and adults as well as singing dolphin pens and other oddities.
The store manager says they also are interested in selling local art on consignment.
"We've already had some people come in with nice items, and we're interested in seeing more," she says.
Store hours are Mondays through Fridays, 10 a.m. to 6 p.m., and Saturdays, 10 a.m. to 2 p.m.
Phone: (419)586-2371, Fax: (419)586-6271
All content copyright 2004
The Standard Printing Company
P.O. Box 140, Celina, OH 45822