By Lance Mihm
lmihm@dailystandard.com
The newest gaming craze, using Marvel Hero Clix figures, had made its way to Celina.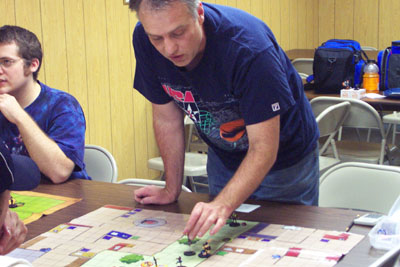 Nearly a dozen people, from young teens to adults, are congregating weekly at Cards-n-Stuff on Logan Street to play in tournaments using super hero figures. The game came out two years ago and has gained national interest due to recent comic book movies, "The Hulk," "The Punisher" and "Spiderman."
The game is played on a large map with participants selecting various super heroes to fight a battle.
"You get 50 minutes to play out an entire battle. Each player is given a set number of moves they can make each turn," tournament director Tony Nagel of New Bremen says. "It's a chance to escape from reality a little bit and bring comic book heroes to life."
Each figure has a point value based on the powers of that super hero. The figures mimic the powers they have in their comic book stories. For example, the Punisher uses a high-powered gun while the Hulk fights in hand-to-hand combat. The Flash can move quickly, while the Ant Man and Yellowjacket score high points for defense because they are small and hard to hit. The gaming pieces are manufactured by Wiz Kids Corp., and figures and maps can be purchased at the store. A starter kit, which includes a map, rule book, abilities card, two dice, a turning ring and six figurines, can be purchased for about $10.
The tournaments at Cards-n-Stuff are free, and Wiz Kids sends prizes for winners.
"I like the gaming aspect," says Richard Warren of Minster as he battles other players on Saturday. "I like gaming and that's why I play. Some people just like to collect the figures."
Nagel is an official Hero Clix judge for Wiz Kids, which includes passing a test administered by the company. He was a participant in last year's Hero Clix world championship.
Store owner Ron Coon says a lot of kids coming into the store on the weekends notice the tournaments and instantly get interested.
"This is a chance to not just collect the figures, but to use them against other people," he says. "The kids seem to enjoy it."
Phone: (419)586-2371, Fax: (419)586-6271
All content copyright 2004
The Standard Printing Company
P.O. Box 140, Celina, OH 45822