VAN WERT -- A double elimination tournament like the American Legion Second District tourney affords teams a second chance if things don't fall right in the opening contest.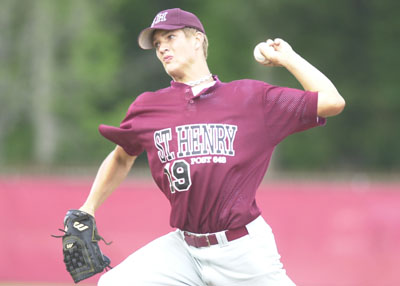 St. Henry Post 648 needed that second chance after falling to Lima Post 96, 5-1, on Saturday at Smiley park in Van Wert. On Sunday, Post 648 went up against a familiar foe in Van Wert Post 178, needing a solid game and a win to stay alive.
Post 648 got neither, stranding runners in scoring position in each of the first four innings, and committing six errors in that same span to fall behind 7-0, en route to a 9-4 loss that eliminated them from the tournament with an 11-7 record.
Sunday's first inning was a microcosm of the whole game.
Tyler Schwieterman and Dusty Ahrens singled and were left at first and third as Division IV All-Stater Nick Missler, from Lincolnview, induced Cory Luebke and Evan Bertke to fly to right. In the bottom of the first, Aaron Gillespie reached on a throwing error and Ty Wannemacher singled him to scoring position. Phil Germann hit another groundball that was booted for an error, allowing Gillespie to score, and giving Post 178 a 1-0 lead.
Post 648 got two runners in the second inning on base hits by Brent Schwieterman and Andy Scheidt. A walk to Lenny Koesters and a double by Ahrens in the third and a single by Chad Geier and a hit batsman (Danny Koesters) in the fourth inning gave St. Henry more opportunities, but the big hit never came, giving Van Wert the chance to expand on its lead.
"We had a lot chances and just didn't get the job done," said Post 648 coach Todd Franck. "It was probably bigger that we committed in the neighborhood of six or eight errors. When you're playing at this level, you can't boot the ball around like we did and be in a ball game to win it. They're going on and we're going home. I have to give them credit."
Post 178 got two more runs in the bottom of the third on singles by Gillespie, Wannemacher and Missler, and added four unearned runs in the fourth off starter and loser Steve Wenning.
Josh Clouse and Brian Wiseman drew walks with one out and stolen bases and an error put both runners in scoring position. Nick Beining singled in one run, and an error at second base brought in another run, making it 5-0. Wannemacher flied out and a throw to the infield got through and let another run in. The fourth error of the inning came on a groundball by Germann and gave Post 178 a 7-0 lead.
"If we get on the scoreboard early, it's a different game," Franck said. "If we're working with a lead, maybe things are different."
Lenny Koesters' double, a wild pitch and a run-scoring grounder by Ahrens got Post 648 on the board in the fifth inning, and Van Wert answered with a single run in the bottom of the sixth on Beining's single, two stolen bases, and Wannemacher's RBI single.
Post 648 got its only big inning of the weekend in the top of the seventh, trying to climb back in the game. Lenny Koesters singled and scored all the way from first on Ahrens' second double of the game. Bertke's base hit drove home Ahrens, who later scored on a ground out by Scheidt, making the score 8-4.
Stuart Zainea scored Post 178's final run in the eighth. Zainea singled and advanced on a walk to Clouse. Zainea and Clouse hooked up on a double steal, and Zainea scored on a wild pitch by Post 648 reliever Alex Luegers.
On Saturday, Lima Post 96 got a well-pitched game from A. J. Lingenfelter, who bested left-hander Cory Luebke, 5-1. Post 648's only run came in the sixth inning, when Danny Koesters walked, moved up on Tyler Schwieterman's single and scored on a base hit by Ahrens.
"That was probably as good a job of spot pitching as I've seen," Franck said. "He didn't throw mistake pitches. He'd get two strikes on us and just pretty much shut us down then."