By Gary R. Rasberry
grasberry@dailystandard.com
VAN WERT -- After having trouble getting any hits on Saturday, thus putting them in a win-or-go home situation, the St. Marys American Legion baseball team made up for things on Sunday.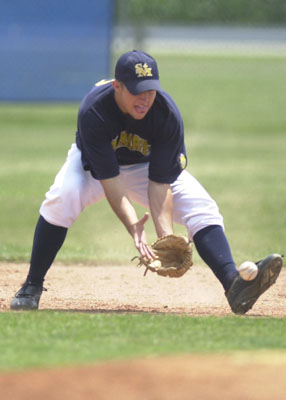 Post 323 kept its season alive by pounding out 16 hits, 10 went for doubles or home runs, to post a 15-1 run-rule win over Delphos Post 268 that was ended after seven innings at Lincolnview High School.
The win came a day after Post 323 collected just six hits in losing to Sidney Post 217 4-2 at Lincolnview in first-round play.
St. Marys (21-5) now plays Van Wert Post 178 on Tuesday at 7 p.m. at Smiley Park in another loser's bracket game where the loser is done for the season.
St. Marys Post 323 15, Delphos Post 268 1 (7 innings)
Where St. Marys had trouble getting the ball out of the infield on Saturday, Delphos had trouble keeping the ball in the confines of the diamond on Sunday.
St. Marys scored four times in the first and collected three doubles and a home run in their first five hits of the game. The big hit came off the bat of Sean Boley as the Celina grad grooved a 1-1 offering from Tim Collier over the leftfield fence to score Tom Burke and make the score 2-0. The other runs came off a wild pitch that scored Josh Varno and a single by Craig Long that brought Matt Helmstetter home.
"Unlike (Saturday), our bats really came alive," said St. Marys manager Jim Dieringer. "That's the whole story. We broke out quick, never looked back and kept on going.
"(Saturday), it looked like no matter what we hit, it was soft and right at somebody. Today, it's a whole different ballgame."
Meanwhile, Post 323 pitcher Nick Pfeffenberger began pitching a gem of a game. Pfeffenberger allowed just one baserunner through the first three innings via an error but no-hit Delphos until the fourth when Travis Owens hit a one-out single. The defense of St. Marys made the single moot as St. John's graduate Dave Hayson grounded to Helmstetter, who started the 4-6-3 double play to get out of the inning.
The fourth became the big inning for St. Marys as 12 men went to the plate. Collier was chased after giving up a three-run shot to Derron Steinke, scoring Varno and Helmstetter ahead of him. Matt Long came on and gave up two more runs in the inning before finally being able to get the third out, but trailed 11-0.
The outburst triggered the run rule if the lead stayed 10 runs or better until the seventh. Between Pfeffenberger and the St. Marys bats, there was no concern.
St. Marys added runs in the last three innings and Pfeffenberger gave up just one more hit before leaving after six innings. Pfeffenberger struck out seven and walked two while throwing 81 pitches, 56 for strikes.
Craig Long came on in the bottom of the seventh as St. Marys cleared the bench. Delphos was able to break up the shutout thanks to a Geoff Bowers single that scored Jim Halker, but Long closed the door, getting his second strikeout by getting John Harris to swing at strike three to end the game.
Sean Boley paced St. Marys with a 3-for-4 day with two doubles to go along with his home run and four RBI. Long went 3-for-4 with two RBI and Steinke's home run accounted for his three RBI. Of the 16 St. Marys hits, eight went for doubles.
"I told the kids on Saturday that just because we lost doesn't mean we're out of it," said Dieringer. "It's just a detour to the finals, that's all. Now we have to play with a little more intensity, concentrate more, play with a little more poise and just go from there.
"This ballclub is capable of that. We surprised a lot of people when we went down to Cincinnati and won that (The Cincinnati Storm) tournament. It was disappointing to lose (Saturday), but that's baseball. That's why you play the game. We'll go from there."

Sidney Post 217 4, St. Marys Post 323 2
On paper it looked like a battle of two dominant pitchers as the teams met on Saturday.
But in the end, Sidney's Ross Mohler won the battle over St. Marys' Varno when Varno ran into trouble several times.
Varno, the Wapak ace heading to Indiana State, had to throw a lot of pitches in the game, going the distance with 149 pitches. Only twice in the game did Varno retire the side in order.
Sidney used a sacrifice fly from Marcus Goffena in the first inning to score Versailles junior-to-be Matt Murphy for the first run of the game. Murphy, who went 4-for-6 with a triple, added a second run in the third by scoring on a wild pitch from Varno and adding the insurance in the eighth by scoring on a single by Russia native Jay Borchers.
"Josh was not as sharp as he has been," said Dieringer. "He had to throw a lot of pitches."
Mohler, on the otherhand, was making St. Marys hit right to the defense. Mohler, the Covington ace who had his spring season ended prematurely when he was struck by a hit ball against St. Henry and suffered a fractured skull, struck out six but got some strong defense on some of the hardest hit balls.
The only mistake pitch he threw on the day came in the seventh. With Brandon Freytag reaching on a two-out error, Alex Fuerst stepped up and took Mohler's 2-1 offering over the centerfield fence to cut the Sidney lead to 3-2. After that, Mohler and reliever Ryan Shaffer, who got the save, closed things out.
"We didn't hit the ball very hard today," said Dieringer. "The hardest shots were Fuerst's homer and one that Andy (Langsdon) hit to right."
"It's a typical St. Marys-Sidney game that we have every year," said Sidney coach Wayne Shoffner. "They have a great team with a lot of great players. I'll tell you, I didn't want to see Scott or Sean (Boley) come up to the plate."
Shoffner's fears were unwarranted as Mohler and Shaffer held the Celina twins to a 1-for-8 day with no runs scored and two walks, both of them to Sean Boley.