By Margie Wuebker
mwuebker@dailystandard.com
The Auglaize County Fair offers something to tantalize the palate -- from rigatoni and whole hog sausage sandwiches to Reese Cup Apples and Tropical Shaved Ice.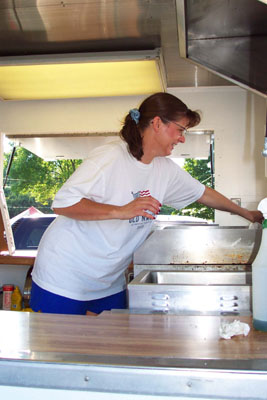 "Each year we try to offer something new and different," says Mary Ann Carrig, one of the workers fielding a steady stream of questions in the fair secretary's office. "After all, you can have just so many hamburger, french fry and pizza stands."
Carrig explains many entertainment and concession contracts are instigated or signed during the Ohio Fair Managers Conference held in Columbus during January.
"That's where we find out about most of the new things out there," she says. "We have a group of veterans who sponsor food booths year in and year out. People expect to find them at certain places on the ground and know of their commitment to serving good food."
Food concessionaires began showing up as early as Wednesday, with the stragglers showing up long before dawn broke today. The latter arrivals closed up shop at the just completed Shelby County Fair and headed north. Calls continued to come in as late as 4:30 p.m. Sunday from mobile food merchants who found a spare week on their hands. They quickly discovered all fairground spaces are taken.
"We're filled up," Carrig says happily. "There is a waiting list right now because you never know what can happen. Trailers sometimes break down en route and emergencies can and do happen in the hours leading up to fair time."
A few stands opened early to accommodate junior fair exhibitors and workers already on the grounds.
Auglaize County Pork Queen Ellen Becker of Minster and Wapakoneta-area resident Mike Ruppert stayed busy Sunday night serving pulled pork sandwiches and cold beverages at the Auglaize County Pork Producers trailer.
"The organization has been involved here at the fair for at least 30 years," Ruppert says. "Our booth represents a great way to promote a lean and tasty product."
The trailer, located an oink and a squeal from the hog barns, also includes marinated pork loin sandwiches as well as hotdogs, always a favorite with the younger set. The stand also provides free literature including recipes to try at home.
Ruppert roasted a hog that yielded nearly 250 pounds of the pulled or shredded pork. The loins, also tipping the scales at 250 pounds, come from nearby Kah's Meats. That translates into a mountain of sandwiches.
The Auglaize County Cattlemen's Association set up shop next door with a menu of sliced roast beef, steakburgers weighing in at a hefty one-third pound before cooking and shredded barbecued beef. The piece de resistance is the anniversary meal boasting a plump steakburger sandwich, chips and a beverage for $6.
Mark and Mary Krohn will be serving bratwurst as well as Italian and Polish sausage at their sausage wagon. Customers can choose from such additions as sauerkraut, peppers, onions, marinara sauce, ketchup and mustard.
"People of German descent certainly love their sauerkraut," Mark Krohn says. "Even the kids ask for it."
The Krohns, who recently completed a stint at the Putnam County Fair, had customers who came back at least once and sometimes twice a day for bratwurst. Several people who lived or were stationed in Germany claimed it tasted as close to authentic Bavarian fare as possible without traversing the ocean.
"A bratwurst without the bun" has become a frequent request due to the Atkins diet craze sweeping the nation. The Lima family, which includes son Luke and daughter Rachel, is more than happy to oblige. The customer gets meat on a piece of foil instead of a bun with specified toppings.
St. John Volunteer Fire and Rescue began coming to the fair four decades ago to raise needed funds for equipment. Connie Campbell, mother of chief Rodney Campbell, recalls the food stand started out at the far end of the grounds near what is now the beer tent. An area near the fair secretary's office proved to be the second home until the department inherited its current location near the main entrance.
"I remember getting involved as a teenager," she says. "My first assignment was to peel and slice all the onions with a butcher knife."
It proved to be a tearful experience even though fair-goers offered surefire suggestions on how to stop the water works. Peeling onions underwater didn't work and neither did holding a stick match between her teeth. The telltale sulfur odor proved to be no match for the pungent onions. Nowadays, a meat slicer makes short work of 60 pounds and tears have become the exception instead of the rule.
In bygone days, the wives of firefighters baked cakes and pies for dessert enthusiasts. Now the items are purchased from quality suppliers to meet strict health department regulations. Desserts share top billing along with tenderloins, hamburgers, cheeseburgers, ham, hotdogs and smoked sausage.
"We are always trying something new," she adds. "It was so incredibly hot last year that we dropped chili and added watermelon and potato salad. The guys are experimenting with french fried Twinkies this year. The jury is still out on whether they will be included on the menu."
Firefighters erect the portable kitchen quarters in May for an antique farm show. It remains in place until September when everything is brought back to the firehouse for storage.
"This is definitely our biggest moneymaker of the year," the fire chief says. "Everybody pitches in, including wives and girlfriends. We even accept volunteers."
Newcomer Robin Smith of Arizona has two stands on the grounds -- a pasta wagon and an onion blossom stand also offering nachos and cheese and strawberry daiquiris.
"People walk by the first day not expecting to find pasta at a fair," Smith says with a chuckle. "All it takes is one taste about day two and they are hooked the rest of the week."

The Auglaize County Fair opens today with a busy schedule that includes:
´ 4 p.m. -- Auglaize County born and raised barrow show.
´ 6 -- baked goods auction.
´ 7 -- Them Bowmans (gospel tent).
´ 7:30 -- Junior Fair king and queen coronation.
´ 8 -- cheerleading competition and fireworks.
Among the Tuesday events are:
´ 8 a.m. -- dairy show.
´ 9 -- Junior Fair swine showmanship, rabbit show/showmanship and horse and pony show.
´ 9:30 -- Auglaize County Nursing Home Appreciation Day.
´ 10 -- Brian Brenner (free entertainment tent).
´ 2 p.m. -- 4-H dog show.
´ 3 -- Tune Toppers (free entertainment tent)
´ 5 -- Pork Producers adult and peewee showmanship show.
´ 7 -- harness racing.