By Janie Southard
jsouthard@dailystandard.com
WAPAKONETA -- The aroma of fresh peach and cherry pies and chocolate and coconut cakes floated on the early morning air as dozens of ladies unload their baskets for the culinary judging at the Auglaize County Fair.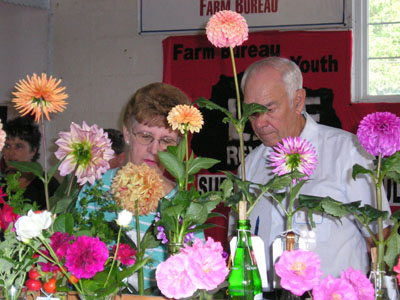 There was a gentle buzz in the Fruit Hall as the women and a few husbands brought in entry after entry to Monday morning's judged events: pies, cakes, bread, preserved fruits and vegetables, cut flowers, plants, harvested vegetables, fruits and grains.
It gets to really be a pastry zoo around here, observed one 70-something pie baker as she placed still warm pies on the table for labeling.
Cake judge Pat Woolley of Sidney, who has judged hundreds of area baking contests, said a good cake is all about taste and texture and she did not pay much attention to how the various cakes looked. She used a fork to test for texture and then tasted just a tiny bit.
Pie judge Marlaine Schneider, Botkins, usually has many entries in the pie and cake contests, but this year she only brought cakes. Thus, when the scheduled pie judge did not show up, Schneider was able to step in for what has to be a delightful task, judging the pies. Pie judges look for flaky crust, especially on the bottom and filling that is tasty and holds it shape in the cut slice.
Janice Warnecke of Spencerville is nearly a permanent fixture at the Auglaize fair baking contests. Although she enters a cake or two as well as plants and cut flowers in those categories, her specialty is pies.
"The key to a good crust is lard. That's the way my mother taught me and her mother taught her. I know they say lard is bad for you, but it's still makes the difference in pie crust," Warnecke said.
Warnecke's mother, Ruth Lutterbeck Burnfield, who was born and raised in New Knoxville, said she's been baking as long as she can remember but only started entering fair competitions at the urging of her daughter.
This year she brought a hickory nut cake. "I baked three layers, but only brought two. The other layer is waiting at home," said Burnfield, who will celebrate her 65th wedding anniversary next week.
Larry Kill, chairman of the fruit building events, said baking entries were down a little this year, but new folks are entering as some of the older ones just come to watch.
"We've got about 20 new people this year and that's good. Plus there are some new categories, and the baking contest has been moved from Saturday to Thursday night (7 p.m.)," Kill said.
The baking contest consists of "your best baked casserole," which must have at least five ingredients, and a cake called "Boston Favorite."
"I took my Boy Scout troop to Boston this year and I guess that name stood out when I was hunting something for the contest," Kill said.
Although it may seem that everyone making one recipe would be fairly boring for the judge, surprisingly it isn't.
Woolley, who judged the event last year and will again this year, told Kill each entry tastes different.
"It's just a matter of how they're mixed and cooked, I guess," Kill said. "Everybody has their own way of doing things."

Today is Senior Citizens and Kids Day. Other activities on tap include:
´ 3 p.m. -- Tune Toppers in the entertainment tent.
´ 5 p.m. -- Auglaize County Port Producers Adult and Pee Wee
Showmanship Show.
´ 6 p.m. -- Sound Productions by Randy and karaoke in the
entertainment tent.
´ 7 p.m. -- Harness racing at the track; Toney Brothers in the
gospel tent.
´ 9 p.m. -- Sound Productions, second performance.
Wednesday activities include:
´ 9 a.m. -- Junior Fair market hog show.
´ noon -- Scrapbooking in the entertainment tent.
´ 1 p.m. -- What's the value of your antique in the entertainment
tent.
´ 2 p.m. -- Gardening News in the Village Green Garden Cen-
ter.
´ 3 p.m. -- Hors d'oeuvres presentation in the entertainment center.
´ 7 p.m. -- Harness racing at the track; Broken Yoke performing in the
gospel tent.
´ 8 p.m. -- T-102 Country Mile Band in the entertainment tent.