By Betty Lawrence
blawrence@dailystandard.com
Coldwater village employees working in the city hall moved this week to the village's new Municipal Center on Sycamore Street. The newly renovated building is the former AGCO New Idea Training Center which also will house the town's new water plant.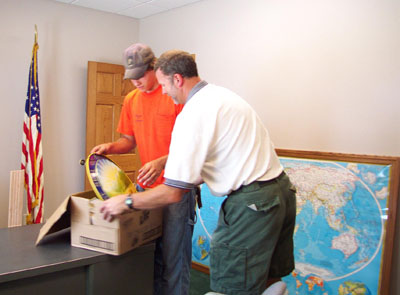 The administrative offices, including that of the village manager, finance director, office clerk, tax administrator, administrative assistant and mayor are conducting business this week at the new location. Council chambers and adjoining committee room also will be located in the center.
"We're excited to be moving in. All of us have so much more room now and now the police department and library can expand. The police department has needed more space for a long time. They're way overdue," Village Manager/Engineer Eric Thomas said Monday from his new office.
Work on the new water plant, located in the rear of the building, is likely in the fall, after the village receives approval from the Ohio Environmental Protection Agency.
"This week we're putting in another new well, number 17. Our new water plant is located near the well field, a perfect location," Thomas added. The village purchased the training center in early 2003 and approximately $2.5 will be spent to convert the entire 14,000 square foot building.
Phone: (419)586-2371, Fax: (419)586-6271
All content copyright 2004
The Standard Printing Company
P.O. Box 140, Celina, OH 45822