By Marc Tobias
mtobias@dailystandard.com
COLUMBUS -- Just when it appeared Grand Lake's season might come to a disappointing end with consecutive losses at the Great Lakes Summer Collegiate League baseball tournament at Bill Davis Stadium, the Mariners rallied to keep its hopes of a tournament championship alive.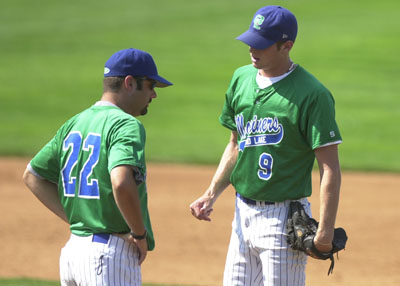 Defensive miscues had cost the Mariners in an opening-round 7-4 loss against Columbus, and two first-inning errors against Stark County had the Mariners facing a 2-0 deficit.
It was Stark County's defense that decided the outcome of game number two, though, as a crucial error and a wild pitch allowed Grand Lake to rally for a 4-3 victory.

Grand Lake 4, Stark County 3 Grand Lake was down to its last six outs when it came to bat in the last of the eighth inning facing a 3-1 deficit.
John Franzese and Jon Hatfield opened the eighth with singles to put the tying runners on base and thus bringing Phil Disher to the plate.
Disher hit a grounder up the middle, and Stark County pitcher Paul Lepore made a fantastic diving stab to corral the ball. However, Lepore's throw to first base was less then spectacular and when his throw rolled down the rightfield line it allowed pinch runner Jeff Warnock and Hatfield to score to tie the game at 3-3.
Disher, meanwhile, was allowed to move up to third base on a Lepore wild pitch, and then came all the way home for the go-ahead run when there was a second wild pitch, this time by the Terriors' Rory Meister.
Andy Delagarze then came out in the top of the ninth to try and finish what had been an excellent start, although he ran into trouble by allowing two singles to start the inning.
Delagarza then retired the third batter of the inning before handing the ball off to Ross Liersemann who came in and slammed the door shut on a potential Terriors rally.
"Andy Delagarza did a heck of a job. Starting pitching has been our strong point all year and then Ross came in and did a great job," said Grand Lake skipper Mike Stafford. "Andy did a great job pitching 81ò3 innings, and I can't be any happier for these guys. We're a lot better team than going two and out in the tournament."
Erik Morrison took the loss for Stark County, despite having a no-hitter through 51ò3 innings.
A Mark Stanley double broke up the no-hit bid in the bottom of the sixth inning, and Morrison finished by allowing three runs (none earned) on four hits with five strikeouts and no walks issued.
Stanley scored later in the inning on a Scott Billak RBI single.
Delagarza picked up the win as he allowed just four hits while striking out four and walking none. All three runs he allowed were unearned.
"We came out like we did the first game, we gave them two runs in the first inning, and we weren't really hitting," Stafford said. "I think Eric had a no-hitter through five or six innings, but we tried to keep fighting. Obviously today offensively we weren't like we have been most of the year, but we found a way to put pressure on the defense and we took advantage of their mistakes."

Columbus 7, Grand Lake 4
The All-Americans Joe Ness and Mariners' Aaron Tennyson were locked in a tight pitchers duel for the majority of both team's opening round game Monday.
Ness' All-Americans were hanging on to a 3-2 lead entering the seventh inning, and that's when Grand Lake's defense let the game slip away.
Evan Smith took over for Tennyson to start the seventh inning, and he forced Columbus into two consecutive groundballs to start the inning, but unfortunately for Smith both batters reached base due to errors.
Smith then retired the next two batters on a sacrifice and a strikeout and it appeared the Mariners might get out of the inning with no damage allowed, but an error on the next batter plated a run and then three consecutive RBI singles allowed Columbus to take a commanding 7-2 lead.
"We got great pitching, but on the defensive side of the ball we just didn't make the plays for our pitchers and we got into a little bit of a bind there in the seventh inning and I believe all of the runs were unearned because it happened with two outs and that was the difference in the game," Stafford said. "If we make the play then we gain some momentum and maybe the game would be different, but unfortunately that wasn't the case and we wind up giving them four runs."
Tennyson was the hard-luck loser for Grand Lake, allowing three runs on seven hits over six innings of work.
Ness, meanwhile, was masterful for Columbus, as he struck out 12 batters and allowed just five hits over 71ò3 innings of work.
The Mariners, thanks to a small ball mentality, did touch Ness for earned runs despite his electric stuff. Ness was also named the GLSCL's top pitcher during the previous night's banquet.
"Anytime we can get four runs with our pitching we feel like we have a chance to win the game, it doesn't matter who is pitching," Stafford said. "He definitely pitched well, but we also scored four runs and usually with four runs and our pitching it usually gives ourself a chance to win the game but defensively we just didn't have it because of the errors."
Grand Lake now stands at 22-17 on the season and will play in today's nightcap at 7 p.m. versus the lowest seeded loser in the Lima versus Columbus game or Indianapolis versus Delaware game.
However, since Lima and Delaware received first round byes, if either of those teams happens to lose then they will be forced to play the Mariners.
Columbus has no shot of playing Grand Lake because with a loss it will force Indianapolis to play because of the lower seeding, or Delaware because of a first round bye to play. The only way Grand Lake would face Lima is with a Locos loss coupled with a loss by Indianapolis.