By Shelley Grieshop
sgrieshop@dailystandard.com
Before the last carnival vendor drove off the fairgrounds in 2003, plans were being made for this year's Mercer County Banner Fair.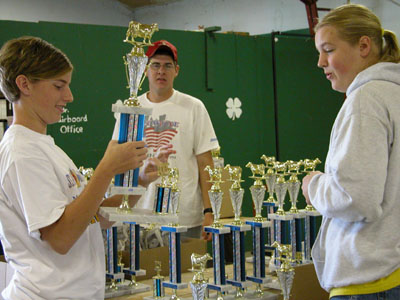 A large part of that planning is left in the capable hands of about four dozen teenagers.
"A lot of people don't realize that the junior fair board members run the show, the activities, all the planning that starts a year in advance," said Todd Mangen, an agent with the Ohio State University Extension Office and in his third year as junior fair adviser.
Last week, the junior fair board members gathered at the fairgrounds to finalize their year-long efforts, examine new trophies for flaws, finish up book work and create posters directing each event.
"Probably the most time-consuming job of being on the (junior) fair board is finding judges and sponsors each year," said Wendy Geier, 18, of Celina. Geier, vice president and fourth-year fair board member, has been a Washington Winners 4-H member for nine years. The members are divided into livestock and non-livestock categories and are a mix of youths from every end of the county.
"That's really one of the best parts about this job is we meet kids from all over. You end up knowing so many more people and it's a lot of fun when we run into each other on the weekends," Geier said.
Fair board members meet each month to organize projects and shows of 4-H members as well as those submitted by FFA members and Boy and Girl Scouts. Fund-raisers are held year-round by junior fair board members to support the organization, including the most profitable one -- the dunk tank at the fair.
"Last year we walked around the fair with feed sacks collecting money for one of the 4-H families who lost a son in an accident during fair week," Geier said as the groups kept busy in the 4-H building. "Out here, everybody's family."
Jackie Lennartz of Fort Recovery said it takes a good pair of shoes to keep going once the fair starts. Literally running back and forth from shows, passing off microphones, keeping everyone in place and on time is a big responsibility.
"But it's also rewarding," said Lennartz, 17, the swine committee chairperson. "It's nice to hear the good comments, especially from the judges. It makes you want to keep going."
Over the years, many new non-livestock categories have been added, bringing more youngsters to the fair than ever before. Many of them and their parents have never been to a fair and aren't familiar with the judging process, the shows or how it all works.
"We've done beginner classes during the year to help the newer ones ease into the fair," Lennartz explained. "When the judging and shows get moving, it's important that everyone has a good idea what's going on and where they need to be."
Mangen said the kids have always been outstanding to work with. Although they're not required to become junior fair board members, many do by the time they hit high school age, he said. Not only are they organizing every aspect of the junior fair itself, each member also is participating and has their own projects and shows to worry about.
Darin Knapke of Rockford has shown sheep each year as a nine-year Shepherd's Choice 4-H Club member. President of his club and a member of Parkway FFA, he said its important to have a representative from each category on the board.
"As a representative of the sheep category, I can push for things I want to see happen in my division," said Knapke, 19, in his fifth and last year as a junior fair board member.
Fair week is hectic but it's the "final hour" for the Junior Fair leaders, the time when they show more than just special projects and livestock.
They show what they're made of, Mangen said.
"And they never disappoint me," he added.