By Margie Wuebker
mwuebker@dailystandard.com
BURKETTSVILLE -- Isaac Burkett, the blind sawmill owner credited with founding the community that straddles the Mercer and Darke county line, likely would be amazed at how the settlement has grown.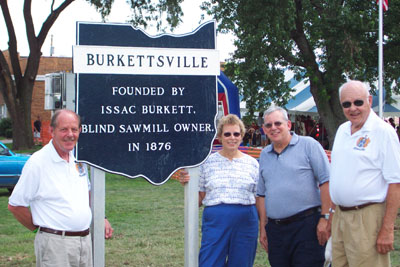 Members of the Burkett clan returned Sunday to honor his memory and to enjoy the second Burkettsville Community Picnic. They call the visit a chance to celebrate kinship.
"Twenty-two of us came for the first picnic last year," said Kent Burkett of Clayton, a great-great-grandson. "We enjoyed ourselves so much that a good many of us decided to come back."
In 2003, Burkett learned about a festival and a 5K run being held in the community that had a familiar ring. He contacted Burkettsville-area resident Joe Barga who invited family members to come and meet the local folks.
"The people of Burkettsville made us feel welcome and we shared information regarding our family," Burkett added. "It turned out to be a learning experience for all of us." In September 2000, 14 family members traveled to Switzerland and visited Zurich, Basel, Bern and Thum hunting information about the Burkhardt family which immigrated to the United States in the 18th century.
"The name changed over the years to Burket, Burkit and Burkett," Gale Burkett explained. It seemed to change as they headed west after landing on the East Coast and eventually settled around Union City. There are 26 relatives with three different spellings of the name Burkett buried at the Old Brick Church Cemetery near Union City on the Ohio-Indiana state line.
Although the participants' original goal was to research family history, it became an opportunity for first cousins to be reunited. Some remembered playing together as children but lost touch after moving to other areas throughout Ohio and Indiana.
Isaac Burkett and his wife had a son named Henry. He later married and became the father of Frank Burkett. Frank and his wife, Tina, had 11 children and a multitude of grandchildren, including those who traveled to the homeland.
Marge Burkett Runkle, who accompanied the first cousins to Switzerland and twice to Burkettsville, is the widow of Denver Burkett, ninth born of the 11 children. "His parents were running out of names by the time he arrived," she said. "His birth certificate contained the words 'ninth child' instead of a first name. His folks finally settled on the name Denver."
"My husband raised Charlois cattle," Runkle said. "We used to bring some of them to Werling's right here in Burkettsville for slaughtering and processing. We often wondered about the name, but we had no clue it was named for Denver's great-grandfather at the time."
Tom Burkett, who delved into genealogy with a passion, learned Isaac Burket initially spelled his name with just one t. The descendants do not know how he came to be blind, but they learned he operated a sawmill and the settlement now known as Burkettsville sprang up around the business.
"We've heard stories about Isaac operating on the honor system," Karen Burkett Lowe said. "He couldn't see money so he trusted his customers to put the correct amount in his collection box."
Family members wonder aloud if the blind sawmill operator actually sawed lumber from virgin forests or whether he hired someone to do the cutting. No one seems to know, leading to speculation he may have had less than four fingers and a thumb on each hand.
The Burketts have learned the village was once a thriving community located along a railroad that ferried people and goods from place to place. The factories have disappeared along with the general store, the millinery shop and other establishments.
"We are so impressed with the community and its 268-plus residents," Kent Burkett said. "The people work together to get things done like building a wonderful shelter house."
The $74,000 structure, complete with kitchen, restroom and storage facilities, was dedicated during ceremonies held July 31. Volunteers, who donated more than 1500 hours of work, were treated to a hog roast and a tour of the Center for Neurological Development.