By Timothy Cox
tcox@dailystandard.com
U.S. troops in Iraq will get a little taste of the Mercer County Fair midway thanks to a Rockford woman.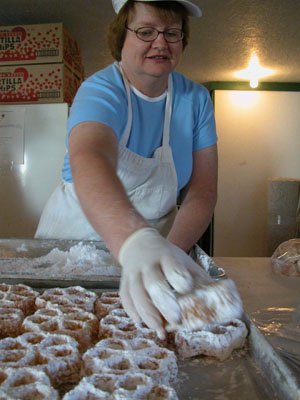 Peggy Chaney on Wednesday shipped out 75 bags of waffles sold by the Knights of Columbus at the fair to the daughter of her friend and co-worker Loraine Saintignon. U.S. Army Specialist Janice Saintignon has been stationed in Iraq for the past few months.
Chaney said she was moved to do something nice for someone else after an outpouring of support from friends and family when her husband, Dick Chaney, recently underwent heart bypass surgery.
Chaney doesn't even know the young soldier, but has become close friends with her mother through their work as bus driver aides for the Cheryl Ann program.
"I wanted to do something and I decided every soldier can remember their county fair back home," Chaney said. "When soldiers get a box like this, they share everything. So they will all get a chance to remember the taste of waffles." Chaney said her effort would not have been possible without the cooperation of the K of C volunteers. They met Chaney at the fairgrounds Monday evening before the fair to fill her massive order.
Chaney packed the delicate, deep-fried confections into a heavy, crush-resistance box that originally held a microwave oven. She hopes additional foam plastic inserts will protect the waffles on their long journey to the Middle East.
She sent the waffles by priority mail, which means they should arrive there in three days or so. It could be up to two weeks, though, until the waffles make their way through the military's internal mail control and into the soldiers' hands.
"The postmistress said she had heard of sending a lot of things, but never waffles," Chaney said with a laugh.
Phone: (419)586-2371, Fax: (419)586-6271
All content copyright 2004
The Standard Printing Company
P.O. Box 140, Celina, OH 45822