By Janie Southard
jsouthard@dailystandard.com
No baked, fried or mashed in the future for these lucky spuds, they were all dolled up Wednesday for the Mr. Potato Head Contest at the Mercer County Fair.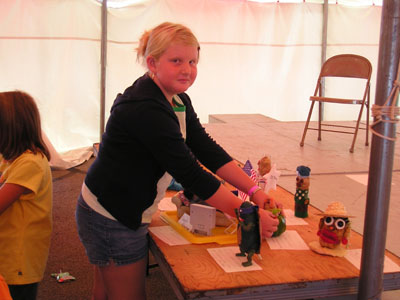 dailystandard.com">
Kids age 10 and under designed haute or not so haute couture for various sizes of raw potatoes as well as a couple couch potatoes who required only sweat pants and bathrobes.
Anna Stammen, 10, St. Henry, said her idea for a couch potato just sort of happened and she put the scene together using some doll furniture she found at home in the basement. Anna's entry won first place in the 9-10-year-old category.
Her little brother, John, 5, placed third in his division with a Ninja Turtle potato, which he painted green and then attached a domed cardboard shell.
"It was a hard decision because there were so many clever entries. We look for originality, creativity and overall appearance," said Diana Grile of Fort Recovery, who judged the event along with Carl and Jeanette Gilmore of Celina. Some of the potato hotties included Granny Potato who was dressed in bathrobe and curler cap and seated in her comfy chair before a small television, or the Mermaid Potato with long iridescent fish tail stretched out on a sandy beach.
There also was the Pig Potato with his curly pasta tail, marshmallow nose, red licorice legs and, no kidding, fried pork rind ears. Or, how about the Potato Water Skier perched on two slices of green pepper, or the hula dancer with acorn tops for a halter top.
Barb Thees, an organizer of the event, said this year's 42 entries are the most for the potato contest in the past 20-some years.
"I don't know why. We didn't do anything different to advertise it," she said as she scrambled to make entry tags and get the potatoes lined up according to age category.
At one point the Gardener Potato was knocked over and his clump of green tissue shrubs fell off the table. Undaunted, the toppled potato rested on his side still smiling his raisin smile and holding his tiny, yellow plastic sprinkling can.
Official winning potatoes were designed and created by: Cody Hart, Emily Braun and Shelby Hart in the age 4 and under class; Mark Siefring, Andrew Snedden and John Stammen in the age 5 and 6 class; Ryan Schuster, Megan Post and Taylor Langenkamp in the age 7 and 8 class; and Anna Stammen, Taylor Walls and Alicia Samaniego in the age 9 and 10 class.
Phone: (419)586-2371, Fax: (419)586-6271
All content copyright 2004
The Standard Printing Company
P.O. Box 140, Celina, OH 45822