By Gary R. Rasberry
grasberry@dailystandard.com
Three days of racing make up this year's harness racing program at the Mercer County Fair.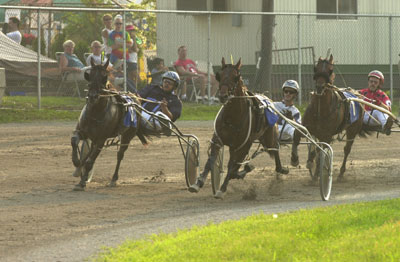 Racing begins Friday at 7 p.m. with 11 races on the card. Sunday brings a matinee race schedule starting at 1:30 p.m. -- not 1 p.m. as listed in the fair program -- with the main event being the running of the Grand Lake Trot. Monday wraps up the fair and the harness racing program with a 7 p.m. first race. The Grand Lake Pace will be featured.
Sixty-six horses are entered in Friday's program, according to Speed Committee member Jerry Bollenbacher.
The Grand LakeTrot and Pace once again is part of the ever-growing Signature Series, which began in 2000 with six county fairs taking part. This year, 12 fairs make up the race for points with the top horses in the points race advancing to the championship, held in late September as part of Little Brown Jug Week in Delaware.
This year the Series has one pacer leaving the pack behind while there is a battle for first in the trotters. Tattler's Jet leads the pacers with 38 points before tonight's Bob Seabrook Pace at the Champaign County Fair in Urbana. Tattler's Jet is coming off a winning run at the Moon Walk Pace at the Auglaize County Fair.
Threetimer earned fourth at Wapak and is tied for second with 27 points. Dragon's Growl took third at Wapak to even up with Threetimer.
In the trot standings, Kipling Avenue is in first by just five points over One Final Time by a 35-30 margin. Kipling skipped Wapak and went to Xenia's trot race on August 4, winning the Ray Henley Memorial Trot to earn 10 points. One Final Time chose Wapak and won the Moon City Trot to stay close behind. Bingham, who also raced at Wapak, is third with 27.
This year several memorial races will be held at the Fair, taking place Sunday and Monday. Longtime course judge Francie Walker will be honored with a race for three-year-old filly trotters on Sunday known as the Francie Walker Stakes. Also the memory of longtime harness fan Dan Beckstedt will be honored with a race of his own for filly trotters.
On Monday, the winner of the Grand Lake Pace will be presented a blanket in memory of longtime racer Speedy Samples. Also on Monday, longtime driver-trainer Don Bates will be honored with a race for colt pacers.
For the Grand Lake Trot, the Mercer County Harness Horseman's Association will sponsor the blanket for the winner of the trot.
Phone: (419)586-2371, Fax: (419)586-6271
All content copyright 2004
The Standard Printing Company
P.O. Box 140, Celina, OH 45822