By Janie Southard
jsouthard@dailystandard.com
DAYTON -- At high noon on April 18, 1942, 16 B-25s took off from the USS Hornet, about 800 miles off the coast of Japan, on the first U.S. air raid after the bombing of Pearl Harbor. Led by Lt. Col. James Doolittle, the mission's target was Tokyo and three other Japanese cities.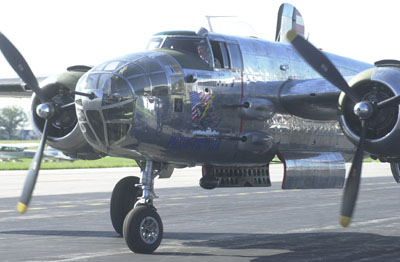 Damage on the ground included 50 killed, 250 wounded and 90 buildings destroyed. As for the air group, some crews were killed, some captured, some survived with severe injuries, but 61 of the original 80-member crews (five men on each B-25) survived.
The B-25 went on to become the most versatile medium-sized bomber in the second world War, according to Jim Terry, who is a pilot of one of the last remaining B-25s, the Pacific Prowler.
Terry, the Prowler and a crew of two roared down from a deep blue sky Thursday morning and bumped and backfired along the runway at Wright Brothers Airfield, south of Dayton, in advance of two days of public rides offered Sunday and Monday from 9 a.m. to 6 p.m. for $325 per person.
The Prowler will also be at Fort Wayne International Airport, Mercury Air Center FBO (4021 Air St.) today and Saturday same hours and price as at Dayton. "There is no real written history on the B-25s. For some reason the Air Force overlooked it. So we're still learning especially from the World War II veterans who ride with us. Many of them write a message on the bomb-bay doors as they leave," Terry said.
It is known that the plane is designated B-25 Mitchell Bomber, after General Billy Mitchell, a famous Army Air Corps figure in the 1920s and 30s. More than 8,000 drawings and 190,000 engineering man hours were required before the first B-25 flight on Aug. 19, 1940.
It was produced by North American Aviation and nearly 10,000 went to all theaters of World War II.
B-25s were phased out of the government inventory, many were scrapped but many were sold as corporate aircraft, fire fighting and personal transports. There are about 34 in existence and 26 are still flying.
"She's a rare bird, now. There are only a handful left and only two available for public flights," Terry said. "The Prowler served in the Army Air Force, forerunner of the present Air Force, until 1958, when she was sold for scrap for $875."
Then it was on to Hollywood where $20,000 of refurbishing put the old war plane in more than 80 movies including "Catch 22," "Forever Young" and "The Memphis Belle."
It also worked behind the camera, literally. A camera was mounted in the tail gunner's spot in order to film simulated air battles.
"A certain cameraman liked to film the planes up close. On one movie he had motioned a plane in so close he could have pushed its nose with his foot. Needless to say that was pretty thrilling for everyone on both planes," Terry said.
Tulsa Air and Space Museum in Oklahoma purchased the Prowler last year. From 1995 to 2003, the plane logged only 60 hours in the air.
"This summer we're taking it to Midwest cities in honor of our World War II veterans that we're losing at a rate of 1,000 a day. It brings back a lot of memories for them. Sometimes a vet will sit in the plane with tears running down his face. It takes them back to another time," Terry said.