By Margie Wuebker
mwuebker@dailystandard.com
Bake a pie and bring it to the fair for a chance to win big bucks and help the Mercer County Banner Fair Long-Range Planning Committee at the same time, contestants were told.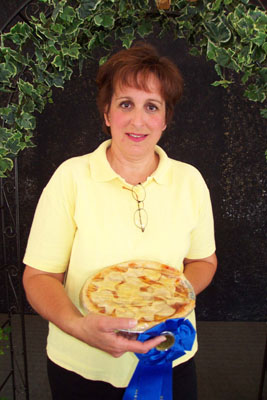 Glen and June Florence have been issuing that same invitation the past four years with women, men and children getting into the act. The longtime fair supporters also put up $100 for the first-place pie and $50 for second.
"We wanted to add something fun for a good cause," June Florence said. "Our son-in-law (Tim Pearson) came up with the idea of a pie contest where everybody could compete."
Twenty-nine pies, including some still warm from the oven, filled two long tables near the judging stand Saturday afternoon. No two entries looked alike. Some had top crusts while others showed up uncovered, crumb-topped or with cinnamon-dusted dollops of whipped topping. The majority boasted decorative designs like heart-shaped cutouts, patriotic stars, delicate leaves or artistic slits.
One man in the audience offered to don a wig and a dress and replace judge Sue Bone, a quality control specialist at Wick's Pies in Winchester, Ind. Bone and her teenage daughter, Mindy, arrived late due to car problems but quickly set to work testing each of the entries. The judge and her assistant checked out everything from the bottom of the crust to the consistency of the filling.
Lynn Moeller of Celina watched as Bone tasted each entry. After all, baking pie for the contest has become a family affair at her house. Amber Moeller, an incoming freshman at Celina High School, and sixth-grader Avery Moeller also prepared pies for the judging.
"I learned how to make pie from my grandmother (Elizabeth Dahlinghaus) and my home economics teacher at Marion Local (Sister Rita Yahl)," Lynn explained. "I placed second the first year but there was no second-place prize money at that time."
She used lard for the pastry just like grandma did for decades. She added tapioca, a dash of cinnamon and a little lemon juice to sliced peaches for the filling.
Gene and Ann Evers of St. Henry also enjoyed some culinary rivalry for a good cause.
"I use prepared pie crust," he said when asked for the secret to achieving flaky pastry.
"Yes, and I'm the one who prepared it," his wife chimes in good naturedly. "I mix together ingredients like lard, flour and butter and then do the rolling. Gene takes over from there."
The retired Goodyear Tire & Rubber Co. employee reserves his kitchen exploits solely for the county fair. He would not be caught dead in an apron any other time of the year.
Ann Evers took first-place pie honors in 2002 and finished second in 2003. Her husband has yet to fall below third and neither have any other bakers for that matter. Auctioneer Tom Robbins describes all non-winners as tied for third.
"My pie brought $55 and hers only brought $50," Gene Evers announced proudly at the conclusion of the auction that followed the judging and netted a record $1,750.
A host of local Republicans came up with $400 to purchase the champion pie baked by Diane Menchhofer of Celina while Mercer County Commissioner Jim Zehringer shelled out $125 to purchase one baked by runner-up Kathy Sprague of Wapakoneta. All the money will go toward needed improvements at the fairgrounds in the coming months.
The judge commented Menchhofer's pie had a wonderful blend of flavors and a flaky crust completedly baked top and bottom. She described Sprague's as being so fresh from the oven the filling barely had time to set.
"I learned long ago from Mercer County Extension Agent Ruth Ann Foote to place a cookie sheet beneath a disposable aluminum pie pan," Menchhofer said. "The cookie sheet helps ensure the bottom crust gets done."
She purchased the peaches at a local store and allowed them to ripen several days. The pastry, made with shortening, turned out flawlessly from rolling to crimping. She used stars and circles cut from remaining dough to top the prize-winning confection as well as a smaller pie for family members.
Runnerup Kathy Sprague of Wapakoneta also baked two pies -- one for the fair competition and the other for her parents, John and Ruth Schnack, residents of the Gardens at Celina.
"I don't have any secrets except for old-fashioned lard when it comes to the crust," she said. "I guess that comes from being raised in the country."
Phone: (419)586-2371, Fax: (419)586-6271
All content copyright 2004
The Standard Printing Company
P.O. Box 140, Celina, OH 45822