By Gary R. Rasberry
grasberry@dailystandard.com
FORT RECOVERY -- After leading most of the statistical categories last week and not coming out with the win, the Mercer County Cougars decided not to let the same thing happen this week.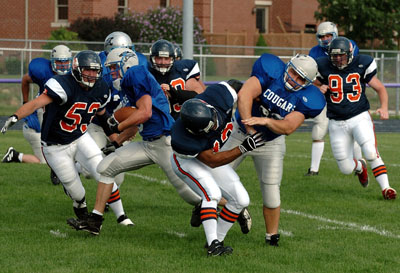 The end result was a complete domination of the South Central Broncos at Barrenbrugge Park in Fort Recovery on Saturday.
Chad Timmerman scored four touchdowns and rushed for 144 yards, The Indians snagged six interceptions and totaled over 400 yards of offense to complete their three-game home stand at 2-1 with a 53-8 win over the Broncos.
The Cougars continue their strong season with a 3-1 record while South Central drops to 1-3 with the loss.
"This definitely keeps our heads up after last week," said fullback Jose Faller. "We came out last week not exactly ready to play. We were ready this week. It was frustrating last week (leading in total yards, but scoring only once out of four tries in the red zone), so we decided in practice this week we weren't going to let that happen." While the offense was potent, rushing for 302 yards and passing for another 114, the defense frustrated the Broncos all day. The Broncos managed just 28 rushing yards and quarterback Mark Boehnlein did throw for 167 yards and the lone touchdown, but also threw six interceptions in the game.
The big defender was Collin Bechtol, who was playing out of position due to missing players. Usually a linebacker, Bechtol moved to the secondary on the fly, getting help from fellow Fort Recovery alum Cody Overman.
The switch was made easy as Bechtol picked off three of Boehnlein's passes in the game.
"It was awkward, I will admit to that," said Bechtol, "I was a lost puppy out there. I didn't know what to do. I was a free safety today when I'm usually an outside (line)backer. Cody kept teaching me through the game, giving me a lot of pointers how to adjust to everything. After halftime I made the adjustments and everything fell into place."
Cody Overman snagged two picks of his own while Kirk Link caught the other interception. Ron Kahlig added a fumble recovery.
Bechtol's day also saw him move to receiver with regular Craig Schwiterman not playing. Bechtol made just two catches, with one going for a 64-yard touchdown pass in the first half and the other a third-down conversion for 26 yards.
"I played receiver last year (for the Mercer-Jay County team) and they asked me to bring it out of the closet," said Bechtol with a laugh. "I figured that I had to. They were good throws from Adam (Wenning). There was good protection from the line."
Wenning threw just nine passes on the day, completing six, but the Cougars used the run to roll over the Broncos. Timmerman's first touch resulted in 10 yards, as did his third carry of the game. Timmerman opened the game with eight carries for 37 yards on the Cougars' first drive, the last yard coming on a touchdown bust with 5:30 minutes left in the quarter. Timmerman also added a one-yard score in the second quarter. In the final quarter, Timmerman put the finishing touches on the Cougars's win with touchdown runs of six and five to finish with 144 yards on 34 carries.
When Timmerman got tired, the rest of the Cougar runners got into action. Faller rushed for 59 yards on seven carries, 45 of those yards coming on a touchdown run. Eric Schmitz added 58 yards while Overman took several reverses for 38 yards.
"Everybody had their little share," said Timmerman. "It was a good day for everybody. There were a lot of runs and a lot of good plays. It was a lot more fun than last week."
"The line was opening up holes all day," said Faller. "Chad was running hard, we got Schmitty and Cody running hard around the outside. It was a good day for the offense and the defense. It's a day where it makes you want to keep playing football."
The Cougars are on the road next week as the LaGrange County Longhorns host the team at White Pigeon High School in Michigan. After a two week break, the Cougars return home Sept. 11 against Darke County.
Phone: (419)586-2371, Fax: (419)586-6271
All content copyright 2004
The Standard Printing Company
P.O. Box 140, Celina, OH 45822