By Janie Southard
jsouthard@dailystandard.com
COLDWATER -- Elementary students walked 2,613 miles last year, just on the school grounds and just at recess. Had they been on the road they could have hoofed it up and down I-75 for almost four round trips to Atlanta.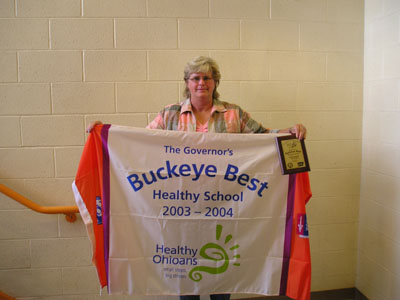 First-grader Zach Forsthoefel and second-grader Christina Seas beat out the older kids (through fifth grade) for the top total miles of 95 and 65, respectively, and took home T-shirts and various other prizes. The students kept track of their miles by walking a quarter-mile course at recess.
This clever program, supervised by physical education teacher Ken Fisher, is one of the main reasons Coldwater Elementary School was named recently one of 76 elementary schools in the state to receive the top award for schools which put a high priority on healthy kids.
The state program, called Governor's Buckeye Best Healthy Schools Awards Program, is sponsored by the Ohio Department of Health (ODH) and the American Cancer Society and focuses on three areas: tobacco use prevention, nutrition and physical fitness.
"We scored well in all areas due to the cooperation of Lynne Rinderle, food service director, Ken Fisher and our nurse, Jodi Weigel," Principal Molly Hay told The Daily Standard on Monday morning at the school. Cafeteria time for students was bumped up last year to 25 minutes from 20 minutes, which took some pressure off the kids.
"Just that little extra time takes off a lot of stress and gives them time to eat and get themselves together for recess," Hay said, adding that adjustment in itself satisfies one of the nutrition requirements of the state program.
All Ohio schools were eligible and were sent an application containing 45 questions designed to assess the school's use of healthy policies and practices. The returned applications were scored by ODH staff members.
"All schools in the gold rank (highest at 80 percent and above) received flags and a plaque at a ceremony in Columbus last week. It was quite an honor," said Hay, who attended the ceremony for Coldwater elementary.
The school won a bronze award last year and will shoot for another gold this coming school year with another facet of the walking program.
"This year Ken (Fisher) will let the kids sign out the pedometer to take home. Whatever distance they walk at home will be registered when they turn in the pedometer the next morning," she said.
Phone: (419)586-2371, Fax: (419)586-6271
All content copyright 2004
The Standard Printing Company
P.O. Box 140, Celina, OH 45822