By Shelley Grieshop
sgrieshop@dailystandard.com
A new state-funded Head Start program will give a leg-up to qualified parents seeking full-time educational and childcare needs for their preschool children.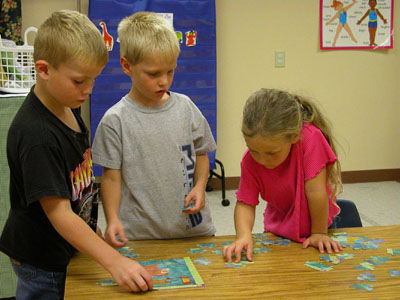 Title IV-A Head Start Plus already is up and running and offered to Mercer and Auglaize County families at two locations: Two By Two Child Development Center in Coldwater and the YMCA Learning Center along state Route 703 in Celina.
"This is the first, full-day program offered through Head Start," said Debbie Brayfield, special projects manager at the Council on Rural Service Programs (CORSP) in Piqua. (CORSP is a private non-profit organization that was awarded state funds to operate the new program in Central Ohio. Celina schools, which operates Head Start in Mercer County, opted not to participate in the new Head Start Plus program.)
The traditional Head Start program (also ran by the CORSP at two locations in Auglaize County) is held throughout the nine-month school year on half-days Monday through Thursday.
Head Start Plus will operate year-round, full days, Monday through Friday, Brayfield explained. Bus transportation is not provided for Head Start Plus, but lunch will be included. Parents interested in applying for the new program must work or go to school a minimum of 35 hours per week. Head Start and Head Start Plus are offered only to children ages 3 to 5. All Head Start programs are designed for children of parents who meet income eligibility requirements, with a special priority given to preschoolers identified at-risk. The income cap, for example, for a two-parent family with three children is $33,045; for a single parent with one child, $18,735.
The first-year grant for Head Start Plus was a result of recently passed Ohio House Bill 95. As a result, approximately $86.6 million will be distributed in 52 counties across the state, serving up to 10,000 children.
At both designated locations in Mercer County, early childhood education will be provided (a minimum of 3.5 hours per day) during the morning session followed by childcare, if needed, up to 6 p.m. Childcare also will be available beginning at 5:45 a.m. at both locations for parents wishing to bring their children earlier, before heading off to work or school.
The tab for the childcare portion of the program is picked up by the Ohio Department of Job and Family Services (ODJFS). The percentage of the amount paid by ODJFS depends on the family's income.
Brayfield admits it may be difficult for two working parents to meet the lower-income eligibility requirements. The agency expects many of the applicants to be single parents, but encourages anyone interested to apply.
Bev Anders, owner and operator of Two By Two, recently moved her facility to the northeast corner of the village at 800 N. Seventh St. She said she was pleased to be appointed one of the sites for the new program.
"We've been a bus pick-up and drop-off point for Head Start students before, but now children won't have to leave here. This is much more tempting for parents to have their children in the same place all day long," Anders said.
Anders staff and the staff at the YMCA in Celina will be trained by the Council on Rural Services to evaluate and provide intervention to children.
At the YMCA, Head Start Plus students will join in the same activities as other preschoolers at the center such as gym classes, swimming lessons and field trips, said YMCA Childcare Administrator Deloris Bailey.
Anders said the new program is a win-win situation for everyone.
"We (childcare facilities) have the facilities, the funding is available and the resources are at our fingertips. We just need to get the word out to the families who can benefit," she said.