By Margie Wuebker
mwuebker@dailystandard.com
Abby Harner skipped the Mercer County Banner Fair this year so she could take two steers to the Ohio State Fair in Columbus.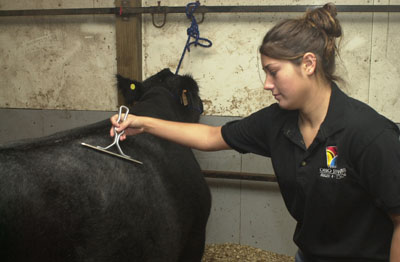 The 17-year-old smiles recalling some uncertain moments when she wondered whether the decision had been a good one. But all doubts faded as she stood in the winners' circle with Giz, a white purebred shorthorn that swept reserve champion honors. Then she happened to glance two places down the line amid all the fanfare and there stood a friend with her other steer. Blue, the roan-colored crossbred, finished fourth overall in the competition.
"Both my steers finished in the top four," she says. "I've been showing steers at the state fair for six years and I never came this close."
Taking part in the sale of champions is an experience she will never forget, she says.
Harner led Giz down the red carpet as a band played and big screen televisions projected their image for all to see. The Kroger Co. purchased the 1,339-pound animal for $22,000, with Harner receiving around $8,000 and the remainder going into the state fair scholarship fund. "Somebody placed the Kroger blanket on Giz for pictures," Harner says. "He stood there savoring his time in the spotlight. He certainly earned it."
Then came the moment she dreaded -- saying goodbye to the pet she had washed, brushed, fed, walked and talked to day in and day out since October. All grand and reserve champions immediately go on trailers bound for slaughter.
"I could not lead him into the trailer," she says as tears glisten in her eyes once more. "My dad did it and had no problems. Giz had become so used to going to shows that he eagerly jumped on board. It's OK, he is where he wants to be -- up there at the top with all the big dogs."
Harner doesn't consider her buddy gone forever. She feels he is up in heaven because younger brother, Adam, needed a steer to play with in God's magnificent pasture.
The youngster, who dreamed of showing cattle and farming with real tractors, remains an inspiration despite his death last year in a traffic accident.
"I did so good because Adam was there in the ring with me," she says. Spectators could not see the arm band encircling her leg or his school photo tucked in the back pocket of her Wrangler jeans.
The teenager continues to marvel at the outpouring of support from family and friends filling the stands in the livestock arena. Even her grandfather, Richard Buyer, came in a wheelchair while recovering from heart bypass surgery.
The ensuing days have been busy ones for Harner as she prepares for the opening of classes at Celina High School. In addition to volleyball practice, she spends hours in the barn trying to placate Blue who misses his buddy.
"We purchased Giz and Blue at the same Illinois farm in October and they were inseparable," she says. "They did everything together like a couple of brothers."
Giz reached his prime at state fair time. However, Blue still has a little way to go before upcoming shows in Denver and Louisville.
People often wonder why the pretty teen spends so much time working with steers. The truth is she loves it as much as volleyball and other pastimes.
"A lot of people don't realize the work that goes into getting them ready for shows," she says. "You have to work with them day in and day out. Steers are a lot like humans but not quite as smart."
One and sometimes two baths a day, with three kinds of shampoo, become routine as show dates near. Mike Clark, a friend from Miami County, did all the fitting work at the state fair. The laborious task involves clipping the legs, trimming the backs for a flat-top look and bobbing the tails to create a puffy round ball near the tip.
"Every hair has to be in place," Harner explains. "You don't give each steer a couple swipes with a brush and head for the show arena. Bathing alone takes several hours; the fitting even more."
With one more year of 4-H eligibility, she plans to help younger brother Austin get ready for various shows. Coming from a family of seven, working together and helping each other has become a way of life thanks to important lessons instilled by Dad and Mom (Mike and Sheryl).
College also is part of the future, even though she has not settled on a career at this point.
"I like people and I like animals," she admits with a sigh. "Right now the options include nursing or veterinary medicine."
State fair money will help with tuition costs, but she quickly points out there is more to life than dollars.
"You can win a million dollars and somebody can take it away tomorrow. The pride you earn through winning or achieving a goal is something no one can take away."