By Janie Southard
jsouthard@dailystandard.com
A teacher is a shining star in the galaxy of childhood, Celina Education Association President Phil Long told a couple hundred Celina teachers in a welcome to the CEA teachers kick-off meeting Monday morning, the teachers' last day before the kids went back to school today.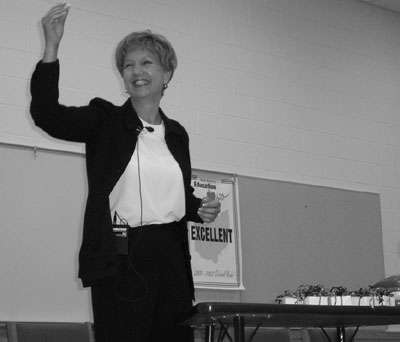 Guest speaker was Ohio Teacher of the Year Kathy S. Rank of Piqua who told of her road to teaching, which began with teaching her dolls and stuffed animals, then progressing to her fellow students in grade school.
Drawing on her many years of teaching, Rank shared stories of some of her outstanding fourth-grade students.
While on vacation in Michigan several years ago, she overheard a family discussion that touched on a vast number of topics.
"Later, I realized that my students don't wonder about the world around them, so I decided we needed some hands-on learning and one project had to do with wiring," said the teacher, who has taught fourth grade, special education and mathematics. Eric, an attention deficient student, really got into stripping the wires.
"I told him not to use too much wire because we'd run out before the whole project was over," she said.
Next day Eric came to class beaming and carrying a brown paper bag. No need to worry, he assured his teacher, they would not run out of wire because he stripped out all the wire on his VCR at home.
Concerned that Eric's mother would be really distressed when she discovered the family VCR wouldn't work because of no internal wiring, Rank called her that afternoon.
"It turned out a kind neighbor had given Eric an old VCR to mess around with and Eric was delighted to contribute to the class," she said. "He not only enjoyed our project, but recognized a possible problem (running out of wire) and set about on his own to correct it."
Rank concluded her talk by throwing 10 frisbees into the audience. With each one she elaborated on one of her top 10 reasons for being a teacher. The frisbees were turned in after the meeting for a small remembrance gift.
District Superintendent Fred Wiswell welcomed the teachers back for the 2004-05 school year and introduced new teachers including four first-year teachers who are Celina graduates: Erika Springer-Draiss, Jason Luebke, Tonya Temple and Mandy Glaser.
Wiswell prefaced his introduction by addressing what he believes is misinformation about rehiring retired teachers and administrators.
"We have recently rehired four individuals (Business Manager Mike McKirnan, Latin teacher John Roth, Assistant Principal Jerry Harris and OWA teacher Jack Clouse) in highly specialized areas. We received no applications with qualifications for those positions," said Wiswell, adding he guarantees he'll not overlook any young qualified teachers.
Phone: (419)586-2371, Fax: (419)586-6271
All content copyright 2004
The Standard Printing Company
P.O. Box 140, Celina, OH 45822