By Ryan Hines
rhines@dailystandard.com
Celina's dominance over Greenville continued on Friday night at Celina Stadium as the Bulldogs opened the 2004 season with a 41-27 win over the Green Wave.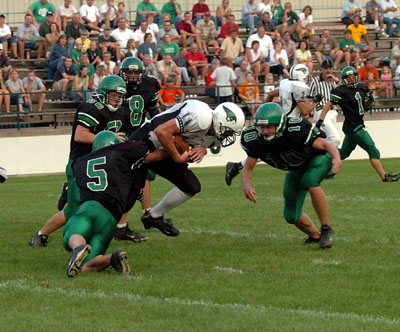 The Bulldogs got a balanced offensive attack and opportunistic play from its defense en route to Celina's 13th straight win over Greenville.
"We're a young squad but these kids came out right away in practice and worked hard to get better and our improvement from our last scrimmage to tonight is tremendous," acknowledged Celina head coach Mike Fell. "We made some mistakes but there is no quit in this group and it's a good start to the season."
Kelly Mallory had a career night for the Bulldogs rushing the ball 20 times for 174 yards and three touchdowns while quarterback Erik Chapin had an efficient night behind center in his first varsity start.
Mallory was a big thorn in the side of Greenville in the first half rattling off 155 yards and all three of his touchdowns, including two scores in the second quarter to put the Bulldogs on top 26-7 at halftime. "It was a great win for us because we've been working so hard in practice and to open the season with a victory is great," said Mallory. "At the end of last year when I was able to play some varsity and carry the ball, it helped me in preparation for this year as far as knowing what to expect when playing on Friday nights. The offensive line blocked hard and I ran the ball well and that goes back to working hard at practice."
"Kelly Mallory had a great game tonight and it all starts up front," said Fell. "The line came off the ball hard and opened up some holes and Kelly made some nice cuts and some big runs for us. You have to feel good for Kelly because he's the best swimmer in our league and tonight he showed that he's a pretty good football player too. Once he started running the way he did, I'm no fool, he was going to keep getting the carries."
Greenville mounted a comeback in the second half as Daniel Fee scored twice to pull the Green Wave to within five points at 26-21. Fee carried the ball 19 times for 115 yards to go along with his two scores.
With momentum clearly on Greenville's side early in the fourth quarter, Chapin ignited the Celina crowd with a 70-yard touchdown pass to Joe Roberts down the sidelines to give the Bulldogs a 34-21 advantage.
Greenville battled right back on its next possession as the Green Wave took advantage of an 82-yard kickoff return by Fee setting up a 4-yard touchdown run by John Hottle closing the Celina lead to 34-27.
With possession of the ball with just 1:51 remaining in the game, Greenville faced a third-and-10 situation and dropped back to pass only to see Chapin intercept a pass from his safety position and return it for a 60-yard touchdown to close out the scoring in the contest.
In addition to his interception for a touchdown, Chapin was 6-of-8 passing for 135 yards and one score which drew praise from Fell.
"You can't say enough for what Erik did tonight," stated Fell. "He threw the ball well, he ran the ball well he hit people on defense and came up with a big interception that he returned for a touchdown. Just a great first game for him as a starter."
Although Greenville outgained Celina 334-281 in total yards, it was five turnovers by the Green Wave that allowed the Bulldogs to walk away with the victory. In addition to Chapin's interception for a touchdown, Andy Harner, Mike Barger and Jordan Heuker all had interceptions to go along with a fumble recovery by Bill Nickell on Greenville's first possession of the contest.
"Tonight was a step in the right direction for us and we showed a lot of heart out there," said Greenville head coach Doug Zimmer. "We came out and played hard but we had a lot of turnovers and gave up some big plays."
Celina is back in action on Friday with another home contest against Van Wert in the Western Buckeye League opener for both squads.

Phone: (419)586-2371, Fax: (419)586-6271
All content copyright 2004
The Standard Printing Company
P.O. Box 140, Celina, OH 45822