By Marc Tobias
mtobias@dailystandard.com
ST. MARYS -- The Roughriders began their football season in style with a 42-0 triumph over Sidney at Skip Baughman Stadium on Friday night.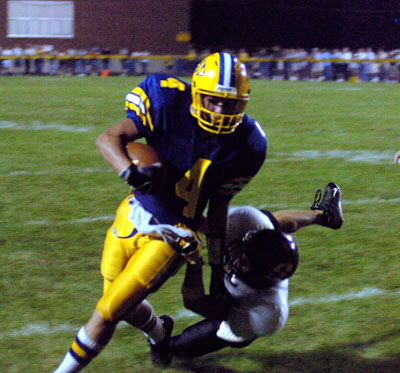 The 'Riders led 35-0 at the half, and 42-0 when the game was called due to lightning with 3:49 left to play in the third quarter.
St. Marys dominated the opening week's contest from the get-go, as it rolled up 289 yards of total offense in the first half compared to just 32 yards for Sidney.
"I tell you what, I thought we came out and got physical and that's what we asked the kids to do today," said St. Marys coach Doug Frye. "There's a lot of things we need to make improvements on because things will continue to get tougher, but I thought we did what I asked of the kids and that was to be physical and I was proud of them."
The Roughriders scored on their first first four possessions of the game, and they did so with a power running game mixed in with glimpses of a solid passing attack. The first play of the game saw Tom Burke haul in a 15-yard pass from Corey Vossler, and then nine of the next 10 plays were runs with the final run a 14-yard score by Justin Nagel on a reverse handoff from Bryan Cook.
St. Marys' second drive consisted of just one play, as Nick Yahl busted down the left side of the field on a 58-yard pass play from Vossler to give the 'Riders an early 14-0 lead.
Bo Frye got into the scoring act to cap the first quarter when he scampered up the middle on a seven-yard touchdown run with 10 seconds to play. A Ross Quellhorst PAT gave the 'Riders a 21-0 lead.
Frye, who led all runners with 81 yards, scored again early in the second quarter on a 10-yard run to put St. Marys well ahead at 28-0.
"I don't care if their 5-foot-8, 160 pounds, or six-foot, 215; their backs all run the same," said Sidney coach Marc Gibson. "They have tremendous heart, and they've been running this system for so many years they know it backwards and forward. They're going to find a weakness on your team and exploit it. We have a lot of young kids playing right now and I told them all week we were going to face a playoff tested, battle tested, senior dominated team and they were going to come out firing on all cylinders. That's certainly what we saw tonight and it was a baptism under fire for a lot of our young guys."
Yahl caught his second touchdown of the night on a 19-yarder frin Vossler with 2:12 to play until halftime for a 35-point lead at the break. The St. Marys linebacker/wide receiver finished the game with 77 receiving yards.
St. Marys then scored on its opening possession of the second half when Brett Baker capped a 76-yard scoring march with a one-yard touchdown run.
For the game, St. Marys out gained Sidney with 351 total yards of offense while racking up 15 first downs.
St. Marys saw 259 of those yards come via the ground game at a 6.2 yard per carry average.
The Roughriders defense, meanwhile, stymied the Yellow Jackets by holding them to 47 total yards of offense and just one first down.
"Mike May and our defensive staff always do a great job over there and we have some kids that really like to hit," Frye said. "We did a lot of good things on the defensive side of the ball and it was just a good physical effort on both sides of the ball tonight."
With the score out of hand, it provided a number of young players with an opportunity to shine and a trio of running backs in Scott Laman, Eric Enriquez and Cook took advantage by combining for 121 yards on 20 carries.
"I was most pleased with the emotion and physicalness of our kids, that most pleased me," Frye said. "I also asked the kids to clean up the special teams, and I'm kind of stickler for little things and I'm not pleased there, but I thought we're off to a good start special teams wise."
St. Marys gets its Western Buckeye League slate started Friday when it travels to Defiance.

Phone: (419)586-2371, Fax: (419)586-6271
All content copyright 2004
The Standard Printing Company
P.O. Box 140, Celina, OH 45822