By Marc Tobias
mtobias@dailystandard.com
The Celina Rotary Cross Country Invitational held at the Wright State University Lake campus had a little bit of everything for local running fans.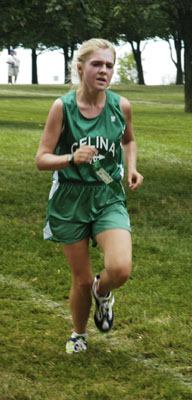 Middletown displayed its dominance by cruising to the Division I boys title while New Bremen took home the crown for teams competing in the boys Division II and III race.
Anna had a pair of individual winners in Sarah Schulze and Dan McCracken while Fort Loramie claimed the girls Division II and III title.
The days most intriguing race came in the girls Division I heat, though, when hometown Celina picked up the team victory, albeit not without a case of mass confusion.
Roughly 30 competitors were disqualified during the girls Division I race for running the incorrect course. The error became evident as the large group of girls were crossing the finish line in just over 11 minutes, which would have been a time good enough to win a gold medal in the Summer Olympics in Athens.
"It's an unfortunate circumstance because a lot of the top runners didn't run the course, but enough of them did run the course to make the results stand," said Celina coach and meet coordinator Dan Otten. "Most of the coaches handled it well because a few got here later and didn't go over the course, and the other's said their runners have to know what they're doing."
Celina took advantage of the error as it finished with five of the top seven runners.
"Fortunately Heather Waterman, a senior for us, saw 27 or so people running the wrong way and she knew that she shouldn't so she went on the right course," Otten said. "She did get abused by some parents yelling 'no you have to go here,' and she went the right way and everyone else followed and our other girls knew it and followed so they got rewarded for running the right way."
Celina's Katelin Smith wound up winning the race, and was beaming after what she said was an unexpected win.
"Last night I was talking to my mom, and I was telling her how coach Otten made us draw the course at one of our practices and I said 'When am I ever going to be first and when's it going to matter to know the course.?', Smith said. "Then she said 'Hey you never know, some day you may be first.' I was like 'yeah right,' and look what happened today, I was first. It's a good way to end my senior year."
The Bulldogs' Jen Blacketer finished second while Waterman was fourth with Katie Vermeesch fifth and Melissa Roth seventh.
Lisa Canary finished 16th for Celina, while Heather Petrie battled back to finish 22nd after following the large group that took the incorrect route.
The Bulldogs boys team took fourth in the boys Division I race with a team score of 92. Middletown finished with a team score of 25, with Alex Karns winning in a time of 17:23.
Celina's Grant Riesen had the best finish for the Bulldogs as he finished 13th while teammates Shawn Caruso and Chris Johnson weren't far behind in 15th and 16th position.
"Grant said he was really nervous because he had no idea what it was going to be like," Otten said. "With the weather being really hot, and some real good runners ahead of him, his time was actually fairly good considering the conditions. Our top three guys ran pretty well and after that."
In the boys Division II and III race, New Bremen's Bradford Coyle helped lead the Cardinals to victory with a fourth-place finish.
"I'm pretty happy with my place, it was real hot and sticky out here today but I felt pretty good," Coyle said. "My goal for the season is to be around mid-16 or maybe a little lower, so it's a start and this isn't the fastest course in the world so for right now I'm good."
Coyle was joined in the top 10 individual runners by Cardinal teammates Jason Dammeyer and Brooks Topp who finished eighth and 10th.
"I'm most excited about our team performance, with five runners in the top 25," said New Bremen coach Adam Topp. "We're real excited about where we finished as individuals, but when you have a group finish high like today that's more of an exciting thing. Our top seven all we're competitive and we were looking at the team goals more then anything today."
St. Marys also had a pair of high finisher's in the boys race as Jason Durkee took fifth and Adam Maze seventh.
St. Henry had a strong showing on the girls side in Division II and III as they finished second in the team competition.
Beth Hemmelgarn had the best finish for the Redskins as she came in eighth place while Janelle Brunswick finished 15th.
New Bremen's Amber Niekamp had the highest individual finish as she came in fourth while teammate Kayla Schwaiger was 14th.
"I didn't get the time that I wanted, but I was still happy about my place," Niekamp said. "I felt good the whole time, so I think later on in the season I'll be getting the times I'm looking for."
St. Marys also had a couple of high finishers as Rachel Stillwell finished 13th and Kimber Brown 17th.