By Marc Tobias
mtobias@dailystandard.com
The weather was beautiful Monday evening, and the Celina golf team was able to bask in the sun when it broke through with its first Western Buckeye League win of the season when it knocked off Shawnee at The Fox's Den Golf Course.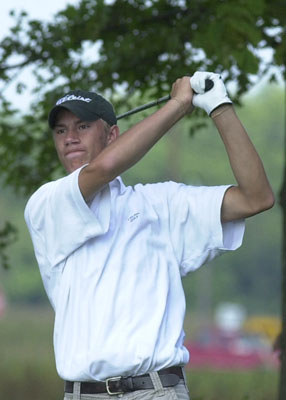 It came down to the wire, though, as both squads' top four golfers had equal team totals of 163.
That meant that the golfer with the fifth best score on each team decided the match, and the Bulldogs' Darren Fleck edged the Indians' Andy Maurer 44-48 for the victory.
"The team goal is 160, and we've talked and talked about how you eliminate the mistakes to play the hole, instead of say, having a double bogey, what can you do to make it a bogey instead," said Celina assistant coach Sue Grubaugh. "It's coming close, 163 is not that far off our goal and we're pleased with the win, but we're not going to be satisfied until we can start breaking 160 consistently."
Shawnee's Troy Laux claimed medalist honors as he shot a round of even-par 36 on the front nine holes. Laux's teammate Gabe Butterfield fired the second lowest round with a 37, but after those two, the Indians experienced a bit of a drop off in their next two scores as R.J. Cox and Zach Halter both shot 45.
"Thirty six and thirty-seven by my one and two guy, but they need help from the team," said Shawnee coach Matt Christoff. "When you bring in mid to high 40s you're not going to win, I don't care who you're playing against."
"In all honesty, we did better today then we have, but we have to produce in the lower part of our line," Christoff added. "Our one and two man are doing the best they can, but the guys down lower have got to produce. You can't win by shooting 45s, and 46s and 48s and 49s."
Celina was led by Paul VanDeventer's round of 39, while Patrick Bailey was one off of his pace with a round of 40.
Scott Luthman shot a 41 while Jason Leist added a 43 to round out Celina's top four scores.
The Bulldogs' WBL record moves to 1-2 and they look to carry over their new found momentum to Thursday when they travel to Kenton in another WBL contest.
"We're right there, and we're seeing improvement, but we want to break that 160 mark," Grubaugh said.
The 'Dogs came close twice already this season, as they fired a 161 in their last two league matches before the 163 against Shawnee.
The Indians meanwhile fall to 0-3 in the WBL.
Phone: (419)586-2371, Fax: (419)586-6271
All content copyright 2004
The Standard Printing Company
P.O. Box 140, Celina, OH 45822