By Gary R. Rasberry
grasberry@dailystandard.com
Give or take a little wind, it was a good day of golfing for the Celina and Coldwater girls golf teams.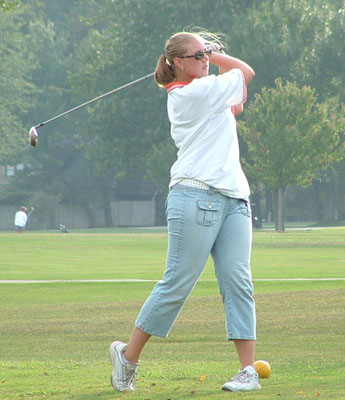 Celina hit its goal score for nine holes and Coldwater, which has had some cancellations this season, got a good round in as well.
The Cavaliers bounded through to edge the Bulldogs, 216-220, on the back nine of Northmoor on Tuesday.
The windy conditions on the lakeside course made for some tricky shooting on the day, with several balls finding a resting place in the water hazards.
Celina coach Sue Grubaugh was happy for her team's play. "That's the best round we've played all year," said Grubaugh. "Two-twenty has been our goal all year and we finally hit that. Coldwater played well and I have to give them credit for shooting a 216."
The first group in provided the low scores for each team. Lauren Fuelling of Celina came in with a 51 to pace the Bulldogs. Coldwater's Kristen Lefeld was just slightly better to earn medalist honors, shooting a 49 to lead all golfers.
Coldwater coach Joe Maruna used a pre-match driving range lesson in helping Lefeld hit the low score.
"We made one little change over on the driving range," said Maruna. "We changed her posture and her address. It really made a lot of difference. I was surprised because sometimes it's those things you have to practice awhile until it works. She really had been hitting it way to the right. She started to move the ball down the middle."
Other top scorers for Coldwater were; Jesse Welsch and Kalie Stalder, who each fired rounds of 55. Diana Schwieterman was next with a round of 56 with Beth Geire carding 57. Amanda Boeke wrapped up the Cavaliers' day with a 61.
Maruna was happy, considering that several of Coldwater's matches this season were cancelled, not giving the team much competition outside of practice.
"We've had our ups and downs. I think the girls are now starting to hit their stride," said Maruna. "Some of them who said they couldn't hit woods or couldn't hit this or that are now starting to gain some confidence. It kind of hurt us that we had a number of matches cancelled or rescheduled. There's nothing like competition to reach that high level."
For Celina, Emily Stolly was right behind Fuelling with a 53 while Kelsey Smith shot a 55. Lisa Budde and Dixie Fagaly each carded rounds of 61 with Heidi Aukerman rounding out the group at 70.
Celina returns to action on Tuesday with a meet against Spencerville at The Fox's Den. Coldwater is scheduled to take on St. John's and Russia on Thursday at Northmoor.
Phone: (419)586-2371, Fax: (419)586-6271
All content copyright 2004
The Standard Printing Company
P.O. Box 140, Celina, OH 45822