By Timothy Cox
tcox@dailystandard.com
COLDWATER -- School district and construction officials are pleased with the progress of the $30.5 million expansion and renovation project that is underway.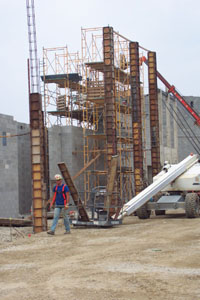 With most of the major site work and underground work done in the area of new construction, officials are happy to see $1.2 million remaining in the contingency fund to pay for unexpected things that typically crop up during major building projects. Underground work carries some of the largest potential for creating unforeseen obstacles.
"With most of the major site work complete and still having $1.2 million in the contingency, that's very positive," Superintendent Rich Seas said. "There have been minimal change orders and that's a sign of good planning and pre-assessment."
Renovating older buildings also carries the risks of unexpected construction issues, and Seas said some of those could come up during the renovation of the high school.
With the low number of change orders to the project and decent weather, work remains on schedule, architects and construction managers told school board members this week. Keeping a tight schedule is critical because the timeline is built around complex phasing aimed at keeping school open and disrupting as few students and staff as possible. The district leases the Franklin elementary building in Montezuma from Celina City Schools to house some students to help facilitate construction.
The entire Coldwater project is slated for completion by the beginning of the 2006 school year. Work includes the addition of 47,000 square feet of new classroom space and a new combination cafeteria-auditorium. The high school entrance also will get a new facade to give pedestrians roof cover outside the building.
The project is being paid for through a 6.1-mill property tax levy approved by district voters in November 2002 and through $21 million from the Ohio School Facilities Commission.
Phone: (419)586-2371, Fax: (419)586-6271
All content copyright 2004
The Standard Printing Company
P.O. Box 140, Celina, OH 45822