By Nancy Allen
nallen@dailystandard.com
Local firefighters and law enforcement lack the necessary information, training and personnel to appropriately respond to an infectious animal disease outbreak, Mercer County officials learned Thursday.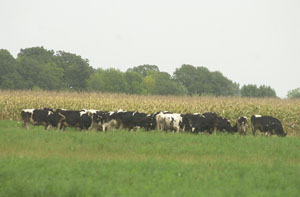 But as a whole, the almost 90 particpants in a mock exercise held last month performed well and raised awareness on many fronts, observers said during a critique of the event.
The mock exercise, held Aug. 28 at the county fairgrounds, was the first of its kind held in the state. The event simulated an outbreak of foot and mouth disease at a hog farm. In the drill, the highly contagious disease was purposely introduced at the farm by a radical animal rights group. Part of the fairgrounds was mapped out to replicate a portion of the county.
"One thing we found is that a bioterrorism seminar for all county fire officials, law enforcement and EMS would be beneficial," said interim county EMA Director Wanda Dicke. She also suggested a course be held for emergency operations center personnel.
While livestock industry officials participating in the exercise understood infectious animal disease and decontamination issues, law enforcement and fire officials did not. Firefighters and law enforcement are trained in decontamination steps associated with hazardous materials incidents, not animals. "Firefighters are used to jumping into their trucks and going, not to their discredit, they have to. They're trained to fight fires," Mercer County Commissioner Jerry Laffin said. "But they don't know what (disease) they could be spreading, and they need to know these things."
Mercer County Health Department official Michelle Kimmel said she learned following the exercise that health department officials legally do not have the authority to quarantine people during such an outbreak, only animals.
EMA Deputy Director Mike Robbins said this probably would not be an issue during an actual terrorism event because the Federal Bureau of Investigation could make everyone material witnesses and make them "stay put."
State veterinarian Dr. Victoria Spellmire praised Mercer County soil and water officials for their problem-solving abilities during the exercise. Spellmire said they knew what equipment was needed, where it was located and how to handle a field runoff problem from the imaginary farm and what field tiles to plug.
"This exercise should launch a local report on some guidelines so we don't repeat mistakes and train on it again," Mercer County Farm Service Agency Executive Director Chris Gibbs said.
Mostly the exercise served to create awareness, Dicke added.
"In years past you maybe had 25 chickens, a couple of hogs and some other animals on your farm, but now farms are so big and they're a huge investment," Dicke said. "If you mess up and bring a disease from one farm to another, that could be really bad."
The participants who met Thursday plan to add the findings to a final report being compiled by the Mercer County Homeland Security & Emergency Management office. The final report should be done in about a week, Robbins said.
Phone: (419)586-2371, Fax: (419)586-6271
All content copyright 2004
The Standard Printing Company
P.O. Box 140, Celina, OH 45822