By Ryan Hines
rhines@dailystandard.com
An unexpected tightly contested game one was only a speed bump for the Celina volleyball team on Thursday at the Intermediate School.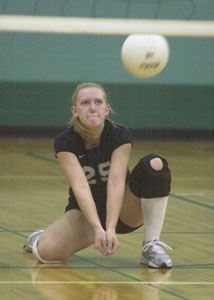 Kenton, historically one of the worst volleyball teams in the Western Buckeye League, battled Celina tough in game one, but the Bulldogs still rolled through the Wildcats, 25-23, 25-18, 25-12.
Celina, the three-time defending WBL champ, improves to 5-2 overall and a perfect 3-0 in the league.
The Bulldogs jumped out to a 7-0 lead off the strong play of Abby Harner and Kelsey Fleck. Harner was controlling the early momentum from behind the service line and Fleck was dominating play at the net with four early thundering kills.
The great Celina start was matched quickly by Kenton's comeback. The Wildcats responded by scoring eight of the next nine points to tie the score and force a Celina timeout. "We have really focused all week on eliminating errors and playing as a team, but in the first game we couldn't control our errors," said Celina head coach Nikki Etzler. "We just couldn't stop the errors at a couple of points in the first game. Our game is stopping the errors that we are committing. We can't keep making as many errors as we have been or we won't go anywhere this year and we won't be able to reach our goals."
Kenton kept the pressure on taking a 16-14 lead on the aid of five Celina errors, before the Bulldogs found their confidence and composure.
Fleck was at the heart of the Celina rally as the senior left-hander had four straight service winners, including one ace as the Bulldogs took back the lead, 20-18.
Kenton was able to tie the score one more time at 21-21, but a Lindsay Scheer ace and a Betsy Hone kill gave Celina a two-point advantage at 23-21. The Bulldogs lead grew to as many as three points, before settling for a 25-23 victory.
Fleck totaled five kills in the first game and led Celina's offensive attack in the match with a match-high 14 kills.
"It seems when we needed a big point Kelsey was able to put the ball away," said Etzler. "That speaks loudly for her abilities and the hard work that she has put into her game. She's our go-to person when we need a play. Our setters really trust her and they know they can go to her in any situation."
Celina led wire-to-wire in game two leading by as many as nine points before taking a 25-18 win.
After struggling in game one and improving in game two, Celina saved its best for last in the third game.
Etzler was able to get Allison Knapke, Liz Homan and Ellen Bryan plenty of action off the bench in game three and the Bulldogs played up to their capabilities with a 25-12 match-ending win.
"I thought that we played much better in games two and three than the first game. We got in a few players off the bench that played well and we just got better in all the areas in the last two games," noted Etzler. "If we need to continue to just put new people in there to switch up the chemistry, then that's what we'll do. Our scores got better as the match went on from giving up 23 points to 18 points to 12 points."
Celina is back in action on Saturday on the road at Eastwood.
Phone: (419)586-2371, Fax: (419)586-6271
All content copyright 2004
The Standard Printing Company
P.O. Box 140, Celina, OH 45822