NEW BREMEN -- St. Henry improved its record to 4-0 with a 20-14 Midwest Athletic Conference win over New Bremen. The win makes the Redskins 3-0 in conference play, and the Cardinals drop to 2-2 on the year and 0-2 in conference action.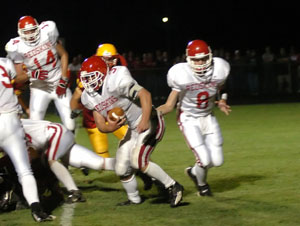 New Bremen came out of the gate quickly, moving the ball downfield with Alex Leugers hitting a wide open Troy Lammers for a 57-yard touchdown just minutes into the game.
With New Bremen running back Chris Grant out of the lineup with an injury, Redskins coach Jeff Starkey saw things he hadn't expected.
"They threw downfield more than I thought they would," Starkey said. "I didn't think we'd see them do that as much as they did. They're fast, too. That Lammers kid has some wheels on him."
"Having Chris out of the lineup does take away a dimension of our offense," New Bremen coach Howard Overman said. "But we had some kids step up and do his job, like Brian Garman and Dan Sidebottom. Every team faces that kind of adversity." The Redskins began their own march, which ended deep in Cardinals' territory when New Bremen's Jeff Thobe recovered Jon Hemmelgarn's fumble on the Cardinals' three-yard line.
This New Bremen possession didn't last long, though. On third down, St. Henry defensive back Josh Werling gambled, stepping in front of a receiver near the New Bremen sideline. Werling intercepted Leugers' pass and returned it 11 yards for a touchdown. The extra point from Jon Clune tied the game at 7-7.
After the Cardinals' fumbled the ball away, Redskins' quarterback Nathan Stahl engineered a 62-yard drive that gave St. Henry the lead.
Stahl kept the drive alive by hitting three different receivers - Ross Niekamp, Ryan Hartke and Alan Hartke - with first down passes, and then connected with Brady Schmitz on a 12-yard scoring pass. Clune added another point after and St. Henry took a 14-7 lead into the locker room.
The Redskins expanded that lead once the third period started. A 57-yard pass from Stahl to Matt Hemmelgarn set up Jon Hemmelgarn's three-yard plunge at the 10:46 mark of the quarter. Clune's extra point sailed to the left and the score stood at 20-7.
New Bremen began a drive that took the Cardinals to first-and-goal at St. Henry's five-yard line. St. Henry's defense stiffened and and held, with the Redskins getting the ball on downs at the two-yard line.
St. Henry couldn't escape the shadow of its own goal post and punted the ball away, with a Cardinal return bringing it to the 16-yard line. Three plays later, New Bremen closed the gap when Thobe bulled over from a yard out. Curt Eilerman booted the point after to close the gap to six at 20-14 with 11:26 remaining.
St. Henry needed to use as much of the clock as possible, and managed to run off almost four minutes before Jon Hemmelgarn's second fumble ended up in the hands of the Cardinals' defense.
New Bremen could do no better than three-and-out, and St. Henry got the ball again with 6:14 left.
"The kids did a good job defensively in the fourth quarter," Starkey said. "They made some great stops in some short yardage situations. Those were really important, they (New Bremen) are a great football team, offensively and defensively. We played our hearts out for 48 minutes, and that's all you can expect from them."
Stahl did an excellent job of clock management, connecting with Schmitz on a pair of third down passes that kept the drive going. A face mask penalty on another third down gave the Redskins a first down, and Jon Hemmelgarn converted a third-and-seven with an eight-yard run before Stahl took a knee to run out the clock.
"We tried to control things the best we could," Starkey said. "There's always some things you can't control, so you do what you can. One of those catches was by a sophomore and we're excited about those kids maintaining that level of play."
Overman was impressed with Stahl's passing game.
"We had our defenders right there," Overman said. "Stahl threw those passes where only his receivers could get them. We were right on top of them and had no shot at the passes."
Even though the loss drops New Bremen to 2-2, the Cardinals have proven that they can stay with the best, losing by seven to second-ranked Coldwater (Division IV) and by six to third-ranked St. Henry (Division V).
"We should have beaten each of them," Overman said. "But should have and would have aren't going to get it done. Our kids are very disappointed because we came up short to two great teams."
New Bremen plays host to Parkway on Friday, while St. Henry entertains Coldwater in a battle of state-ranked unbeatens.