By Marc Tobias
mtobias@dailystandard.com
WAPAKONETA -- The Celina tennis team was able to wrap up third place in the Western Buckeye League with a 4-1 win over Wapakoneta last night.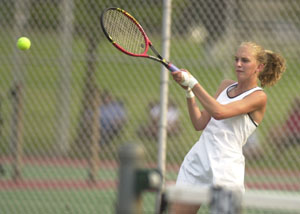 The win keeps the Bulldogs in striking distance for the WBL team title which will be decided next Thursday and Saturday during the league tournament held in Lima.
"It was a good WBL season for us, we would have liked to have done better against Elida and Shawnee, but those are two very good teams. To finish third behind them is very respectable," said Celina coach Jan Morrison.
Kelsey Cook led off the match against the Redskins by picking up an impressive 6-3, 6-0 victory over Kelly Haehn in first singles.
The win moves Cook's WBL singles record to 6-3, which should give her the third seed and a first round bye for the WBL tourney. "My goal was to go 8-1 in the WBL and I'm 6-3, but I guess I have a chance to make up for it in the tournament," Cook said. "Hopefully I'm going to get a good draw, and then play well the first match. After that I hope to just work hard and play my best."
Amanda Starnes also moved her record to 6-3 in second singles with a 6-2, 6-2 win over Katie Wittwer, and the Bulldogs' Amy Zender improved her record to 6-3 as well with a 6-4, 6-3 win over Megan Snyder.
Starnes as Zender will also likely receive the third seed in the WBL tournament, as will the Bulldogs' second doubles team of Kelly Casad and Erynn Piper who won their match last night 6-0, 6-1 over Holly Slonecker and Kasey Moore.
Wapakoneta picked up its lone victory in first doubles where Lena Plescher and Katy Jordan were able to knock off the Bulldogs' Lindsay Miller and Kelly Rutschilling 6-2, 6-3.
"Overall I'm very happy with the season, we've won the matches I think we should have won and there have been some close ones that we weren't able to pull out, but the girls have played well," said Wapakoneta coach Chris Schwinnen. "I'm happy that there's no matches that I have to say 'could of' or 'should of.' The matches that we did lose we played well and we played hard."
"I think my first doubles team of Plescher and Jordan will probably get a third or fourth seed, and I definitely think they can make a run at the semifinals or finals, " Schwinnen added. "They've played the team from Elida and the team from Bath very tough. My third singles player Megan Snyder may also be able to make a run, and the other girls too if they play well."
Morrison said with all three singles players and the second doubles team receiving the third seed, that she hopes for a strong WBL tournament showing.
"With a little luck we should get to the second day of the WBL in several of those places this year," Morrison said. "We'd like to come home with some championships, but again Shawnee and Elida are tough at every spot. There's just no where that you'll get an easy one with those two teams and you have to go to play every day."
Celina's next match is Friday when it travels to Sidney.
Phone: (419)586-2371, Fax: (419)586-6271
All content copyright 2004
The Standard Printing Company
P.O. Box 140, Celina, OH 45822