By Marc Tobias
mtobias@dailystandard.com
MINSTER -- Coldwater and Minster showed they may be the two teams to beat when it comes to the Midwest Athletic Conference championships in roughly three weeks at Coldwater.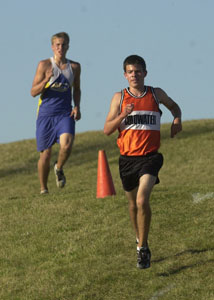 The Cavalier boys took home the team title at the Minster mini Invitational while the Lady Wildcats took home the girls title.
Coldwater edged Minster by five points on the boys side while the Lady Wildcats edged the Lady Cavaliers by 28 points on the girls side.
Fort Recovery finished third in the boys race and was followed by Marion Local, New Bremen and St. Henry.
Marion Local took third in the girls heat, just a point behind Coldwater, and was followed by New Bremen. Coldwater's David Wilker continued his strong running by taking home the individual victory with a time of 16:38, and he was followed by Marion Local's Ryan Winner, Minster's Austin Winner and Casey Heckman and New Bremen's Brooks Topp.
"David did a great job, we had a different plan for him today, we wanted him to go out and go hard from the beginning," said Coldwater coach Dan Pohlman. "Normally he kind of stays back and when he gets to the second mile he takes off, but today we wanted to prepare him for the next few weeks because when you get to the postseason you have guys really push you. We wanted to get that feel of him by himself and pushing himself, and he did that well today and I'm very proud of him."
Jamie Kuess and Ben Hein added top 10 finishes for Coldwater while Marion Local's Justin Guysick finished seventh, Minster's Craig Olding eighth and Fort Recovery's Derrick Huelskamp 10th.
"We knew Wilker would be really good," said Minster coach Larry Topp. "We've got some kids that moved up and are starting to get more competitive. Austin (Winner) and Casey (Heckman) are running really well for me and Doug Preston is a junior in his first year out and he's starting to shine a little bit. So we have kids that are starting to make some steps, but we have a little bit of time where we'll have to start picking it up a little bit quicker as far as pace goes, but it was a good day."
Minster's Briggitte Sherman took home the girls title with a time of 19:46 while teammate Katie Dahlinghaus finished second.
"I was just pumped up my teammate stayed up with me for the first mile, that was really awesome and I'm just proud of her," Sherman said of Dahlinghaus. "It makes it really exciting for state and I was thrilled with our team, because I really think we have a chance."
Dahlinghaus reciprocated Sherman's feelings about the team, by saying they are close to the goals they set at the beginning of the season.
"The MAC title is definitely what we want, we've been keeping that going the past couple of years and I think we want to keep that going even though we lost the main key (Sunni Olding) to our team last year," Dahlinghaus said. "Right now I think I'm where I want to be, I hope by the end of the season I'll be able to catch up to Briggitte. Cecilia Ston-kosky runs fourth for us and she has been really dropping her times, so she's been doing better then expected. So I think our seniors are pretty much where they want to be and our juniors too.
"Sunni was great and I don't think we'll ever have someone like her again, but our sophomores really stepped it up," Dahlinghaus added. "Cara's (Niekamp) really dropped her times and having Kacee Otting back on the team, I think everyone is really coming together and has stepped up to the challenge of losing some great runners."
Coldwater's duo of Tasha Stucke and Jill Vonder Haar finished third and fourth while Minster had three other top 10 finishers in Niekamp, Stonkosky and Jenna Fausey.
Marion Local's Emily Wuebker finished sixth while teammate Trisha Bruns took eighth. New Bremen's Amber Niekamp took home ninth for the Cardinals.
Phone: (419)586-2371, Fax: (419)586-6271
All content copyright 2004
The Standard Printing Company
P.O. Box 140, Celina, OH 45822