SIDNEY -- By the reaction of the teams and the coaches after the game, Tuesday night's Lehman Catholic-Celina nonleague volleyball match at Lehman High School was no ordinary match.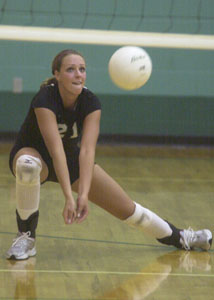 First of all, you had two of the storied area volleyball programs hooking up. Lehman has won two state titles under Greg Snipes and Celina has dominated the Western Buckeye League, winning three league titles in a row.
Secondly, Snipes was in search of his 200th career win at Lehman. To top it off, the Lehman seniors honored its coaches and supporters of the program in pregame ceremonies.
The Bulldogs used a great defensive game and outstanding hitting to defeat the Cavaliers in three straight games, 30-28,25-23, 25-18 to postpone Snipes' milestone victory.
With the win, Celina improves to 6-3 while Lehman, ranked seventh in Division IV in the latest state volleyball poll, falls to 6-4 following the loss. "We have so much respect for Lehman volleyball and what Greg has done here and we were glad to have them on our schedule, no matter what division they are (Division IV)," said Celina coach Nikki Etzler. "We love playing teams like Lehman and we really came ready to play tonight.
"We have been working so hard this year at being a team and we displayed that tonight and I am so proud of the girls," continued Etzler. "We had no individual that stood out, in fact I can't come up with just one player that was better than any other. The whole first team played real well and I also have to give credit to the second team as well for getting the first team prepared in practice."
The key to this game was simple, Celina outhit Lehman on offense and did a good job on defense of keeping the Cavaliers hitting game in check.
On the night, Celina recorded 59 kills to just 29 for the Cavaliers. It was a balanced hitting attack for the Bulldogs as they recorded 18 kills each in games one and three and 23 in the second game.
Seven different players recorded at least one kill for the Bulldogs. Kelsey Fleck and Shawn Dorsten had 13 each, Besty Hone 11 and Lindsay Scheer and Jamie Siefker had nine each.
"Betsy Hone and Abby Harner are our setters and they did a great job of getting the ball to our hitters," said Etzler. "All our hitters were strong tonight and I also thought our blocks were strong tonight as well."
The Celina defense was solid as it was able to control the momentum of the match limiting the Cavaliers to just just one five-point run in the match.
"The only area where we gave them points was on our serve receive," said Etzler. "We have been practicing hard on our defense and I think we are finally starting to realize that if we work hard in practice things will go well in games."
"Celina did a good job of playing defense," said Snipes. "They did a good job making us sideout and we were not able to get anything going offensively. Our strong points were suppose to be defense and our passing and we did not do either of them. We made a lot of bad first passes and then we were hitting from behind the 10-foot line and you are not going to be very successful doing that."
Celina is back in action on Thursday as it steps back into Western Buckeye League play, hosting Elida.
Phone: (419)586-2371, Fax: (419)586-6271
All content copyright 2004
The Standard Printing Company
P.O. Box 140, Celina, OH 45822