By Gary R. Rasberry
grasberry@dailystandard.com
With the sectional golf tournament rapidly approaching, this is the time of year for golf teams to get their games into the right condition.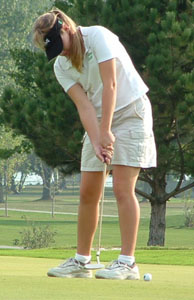 The Celina girls team is quickly approaching that mark.
A week after reaching their goal score of 220 at Northmoor, although losing the match, the Bulldogs did much better, winning a dual match with Spencerville 214-236 at The Fox's Den in Celina on Tuesday.
The 214 was the lowest score of the season for the Celina girls, something that makes coach Sue Grubaugh very happy.
"Another good score," said Grubaugh. "I am very pleased that their scores continue to go down. They picked a good time to show improvement. They're peaking at the right time. "This is the first time we've been under 220 on our home course. I think Fox's Den is a tough course."
Celina had solid numbers from its top four golfers, although the medalist score came as a nice surprise to one golfer.
Emily Stolly, who had been shooting above 50 for the middle part of the season after a good start, earned the low honors of the day with a 48, the only score in the 40s among the 11 golfers taking part.
"She shot well early in the year and hadn't broken 50 since," said Grubaugh. "Nice of her to do that tonight. It was a good round."
"I did pretty good on the first hole. On the second I did all right," said Stolly. "I just kind of kept playing. After a par on the sixth, I got better. The last hole was a killer but I did all right.
"I was shooting under 50 at the start of the year when I first started practice. It feels good to be back under 50," added Stolly.
The rest of the Celina players also shot well. Lauren Fuelling was the runner-up with a 52. Lisa Budde shot a 55 with Kelsey Smith coming in with a 59. Dixie Fagaly and Heidi Aukerman rounded out the Celina round with a 71 and 76 respectively.
Spencerville was led by rounds of 55 from Brittany Fast and Melissa Heidlebagh. Angela Lammers shot 60 with Jessica Miera carding a 66. Cassie Siebert rounded out the Bearcat team with a 69.
Grubaugh hopes the good match on Tuesday will be a sign of things to come when sectional starts in the first week of October.
"It's two weeks before we go to Kalida," said Grubaugh, referring to the sectional site at Country Acres. "Hopefully we can put some good scores up at sectional."
Celina has one last tuneup for the postseason on Sept. 30 when the team travels to the Wayne Trace Invitational.
Phone: (419)586-2371, Fax: (419)586-6271
All content copyright 2004
The Standard Printing Company
P.O. Box 140, Celina, OH 45822