By Betty Lawrence
blawrence@dailystandard.com
After four years of investigation on drug and fraud charges, Celina physician Dr. Thomas Santanello, 52, was sentenced Thursday to 90 days in the Mercer County Jail and five years probation.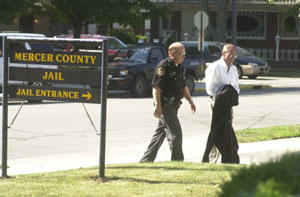 Using a cane as he entered the courtroom Thursday, Santanello offered a brief statement before the judge and then gave a more opinionated statement to the media after his sentencing.
"This whole thing was crap and unjust and will affect pain management in the whole state of Ohio," Santanello said. "Physicians will be afraid to prescribe medicine, and thousands will be suffering needlessly."
His wife Susan, crying while she embraced and kissed her husband before he was handcuffed, said, "He loved his patients and didn't like anyone to be in pain."
Santanello, who lives at Southmoor Shores in St. Marys, is a doctor of osteopathic medicine who specialized in pain management, neurological and spinal disorders and sports medicine. He had faced up to 112 years in prison on 88 criminal counts. At the start of the sentencing hearing, Assistant Prosecuting Attorney Matt Fox attempted to enter certified death certificates for six patients of Santanello who died of drug overdoses, but visiting Judge Jeffrey Welbaum from Miami County chose not to allow admission of the exhibit.
Welbaum first listened to the sentencing argument by one of Santanello's three attorneys, Dave Koerner, before hearing a brief statement from Santanello and the state's argument by Fox.
Koerner implored the judge to consider Santanello's current health condition, noting the chances of repeat offenses are minimal
"Dr. Santanello has no past criminal record and has already surrendered his medical and DEA license. He was in a serious motorcycle accident in 2001 and injuries from that accident have made it impossible for him to practice. He physically can't perform surgery and the brain injury from the accident has left him with short-term memory," Koerner argued.
"Everything shows he would be a good candidate for Community Control Sanction (CCS, also known as probation)."
In his argument, Fox said the investigation of Santanello began four years ago when allegations of increased pharmaceutical drug overdose deaths and increased trafficking and possession of prescription drug offenses surfaced, along with increased drug addiction related criminal activities in Mercer County.
"Patients of Dr. Santanello suffered serious physical, psychological and economic harm as a result of his egregious conduct," Fox said. "As a physician, he held a position of trust and his occupation obligated him to prevent the offenses from occurring."
"His outrageous doling out of prescriptions after prescriptions turned Mercer County citizens and others into drug addicts and in some cases turned citizens into drug traffickers.
The prescriptions were not consistent with medical board rules and the doctor has demonstrated no remorse, Fox added.
In a prepared statement, Bob Cole, Ohio Pharmacy board Supervisor and an investigator on the case, said the investigation of Santanello was prompted by concerns regarding an increase in Mercer County of pharmaceutical drug overdose deaths, trafficking and possession of prescription drugs and drug-related criminal activities, such as burglary.
"The investigation determined Dr. Santanello as responsible for the diversion of 65,565 dosage units of Oxycodone, including 39,625 dosage units of Oxycontin and 26,751 dosage units of hydrocodone," the statement reads.
In the plea agreement in July, Santanello agreed to permanent surrender of his Ohio medical and the DEA license that allows him to prescribe medication.
"Basically, he got his sentencing in July," Mercer County Attorney Andy Hinders said after Thursday's sentencing.
He was not disappointed with the outcome, he said, and plans to send copies of the findings of Santanello's criminal conduct to all 49 states that hopefully will prevent him from setting up practice in the future.
"He can do no more harm. Everything's all gone. His medical license is gone and he has to pay the cost of the investigation. He'll be paying about $350,000 in costs altogether," Hinders said.
Santanello practiced in Rockford and Celina for 20 years before his office in Celina at 1107 N. Main Street was closed in April 2001.
At that time, investigators with local and state medical and drug agencies executed a search warrant of business records, office equipment, medicine and ammunition. The items were seized as evidence for investigations begun in the fall of 2000 by various state and local agencies.
After saying the court was lenient in the sentencing, one of Santanello's attorneys, Mark Kaiser, lambasted the court system.
"What happened here today was absolutely outrageous. I am ashamed of my profession and upset with the system. The real problem is a system that allows doctors to go to jail for treating patients in intractable pain. It turns doctors into drug dealers when you put a person in jail because of pain management," Kaiser said.
At a July court hearing, Santanello pleaded no contest to 86 felony drug trafficking counts and two misdemeanor counts of obstructing official business. Welbaum subsequently found Santanello guilty of all 88 counts.
Those drug charges were fourth- and fifth-degree felonies and the obstruction charges were first- and second-degree misdemeanors which carried a potential of more than 112 years in prison.
If Santanello violates his probation, the court has the ability to impose a prison sentence of 17 months for each fourth-degree felony and 11 months for each fifth-degree felony. Also, the court reserves the right to run those sentences consecutive which means Santanello could serve upwards of 104 years in prison.
The court has the right to run the prison sentences consecutively as the minimum terms would demean the seriousness of the offense and not adequately protect the public, reads the court records.
As part of the plea bargaining agreement, the original indictments that totaled 214 felony charges against Santanello were dismissed.
"It was a difficult case but I'm satisfied with the outcome," Santanello's lead attorney Ralph Buss said.