By Marc Tobias
mtobias@dailystandard.com
The Celina boys soccer team was able to move its record to .500 with a convincing 9-0 win over Lima Bath last night.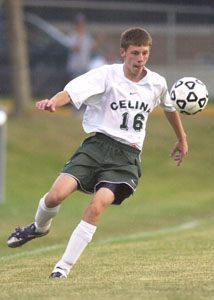 The win moved the Bulldogs' record to 4-4-1 (3-2 WBL) while Bath slips to 0-8 (0-5 WBL) on the season.
"A win is a win, you always like to see the guys work hard," said Celina coach Bruce Strine. "We're still making adjustments, if we can finish in the middle of the WBL it would be good for this team."
Celina dominated in the win, taking 36 shots and nine corner kicks to just five shots and one corner kick for Bath.
Nick Grieshop got the fireworks started early for the 'Dogs, as he had a hat trick in the first 11 minutes of the game. Eric Klosterman had the assist on Grieshop's first goal as he slid a long ball up the middle of the field that Grieshop was able to put away, albeit on his own rebound, as Bath goal keeper Josh Long made the initial save.
Max Overman registered the assist on Grieshop's second and third goals.
The hat trick came off a nice Overman cross from the left side of the field, and Grieshop was able to put it away with a head ball for a 3-0 Celina lead.
Eric Klosterman was able to get into the scoring act in the first half as well, as he netted two goals.
His first goal came from roughly 20 yards out when he ripped a shot that was helped by a slight deflection from a Bath defender. The deflection moved the ball just enough to the right that it got past Long for a 4-0 'Dogs lead.
Klosterman scored his second goal in the 37th minute off an Overman corner kick.
Grieshop then completed an excellent first half by netting his fourth goal just before halftime.
Brian Dorsten played a long ball near midfield, and Grieshop was able to track it down and score with under a minute to play.
The second half saw Celina use a lot of reserve players, but they played just as well.
Celina outshot the Wildcats 17-2 in the second half while picking up three additional goals.
Matt Stetler broke through first in the second half, as he scored on a head ball in the 46th minute.
Drew Russell added a goal off an Adam Hoying assist in the 64th minute while Luke Thobe scored in the 73rd minute off a Kyle White corner kick.
"We got to play our jayvee team the second half and let them get some playing time and they scored three goals," Strine said. "That was good for them, because we're a young team and we're looking at next year and some of our guys are going to have to step up and I got a chance to look at some guys."
Celina returns to action Saturday when it hosts Columbus St. Charles on Saturday.
Phone: (419)586-2371, Fax: (419)586-6271
All content copyright 2004
The Standard Printing Company
P.O. Box 140, Celina, OH 45822