By Gary R. Rasberry
grasberry@dailystandard.com
ST. HENRY -- It didn't take long for John Reed to know what would win out on Friday night: The speed of his Coldwater Cavaliers or the size of the St. Henry Redskins.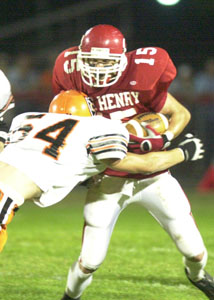 Ross Homan took the opening kickoff 66 yards to the 12-yard line of St. Henry and the Cavaliers scored three plays later to set up a 28-0 win at the Wally Post Athletic Complex.
The win continues the Cavaliers' recent domination of St. Henry with eight straight wins over the Redskins and also puts them in a tie for first with Versailles in the MAC with a 5-0 mark overall and 3-0 record in league play. St. Henry, which was looking for its first 5-0 start since 1999, drops to 4-1 overall and 3-1 in the MAC.
Reed, who had concerns whether his smaller, quicker team, would be able to break through and contain a Redskins offense that was potent coming in, was a little surprised in the outcome.
"I don't emember us being that overwhelming against that good of an offense," said the Cavalier coach. "(St. Henry) moved the ball against everybody. You just held your breath. Even in the third quarter, I was still holding my breath, knowing how explosive they are. Our kids just would not be denied. "We didn't know if our speed could offset their size. You never know how the matchup will go. I think, obviously tonight, speed won," added Reed.
It was a total clampdown of a St. Henry offense that came in averaging 220 yards rushing and 170 passing a game. St. Henry was limited to just 52 yards of offense, with 35 coming on the ground.
Reed heaped praise on his defensive line, especially tackles Mark Heinl and Aron Castle, who helped break open the larger St. Henry line to let the linebackers through.
"Those guys are just 175 pounds and (St. Henry's linemen) were giants," said Reed. "That's where it has to start. It's those kids down there that allow Ross to be the player that he is."
Reed and defensive coordinator Tim Hoyng used a balance of blitz and coverage packages to keep the Redskins from getting anything going offensively. Redskins quarterback Nate Stahl was not allowed to get any rhythm in the pocket, getting sacked three times, twice by linebacker by Cody Muhlenkamp -- and was intercepted for the first time this season. Overall, Stahl was 5-of-19 for just 18 yards through the air.
"They (Coldwater) really played some great defense. We really didn't have any answers for them," said St. Henry coach Jeff Starkey. "They were playing coverage or putting pressure on us. We know we have to get a helluva lot better before going out for week six.
"When the quarterback can't get the ball off and look down field, it's tough. At times they covered us and other times they pressured us. They had 4-5 people put pressure on the quarterback. That's unacceptable," said Starkey.
"We changed it each time. Everytime he went into the gun, we went from blitz to cover," said Reed. "(Stahl) didn't know what we were in. They look the same. He didn't know if we were coming to get him or showing we were coming and then dropping back into coverage."
After the opening kickoff and ensuing score, St. Henry's defense settled down and did not let the Coldwater offense score again in the first half. Coldwater gained 121 yards on offense in the first half and had one turnover.
On offense, however, St. Henry continued to struggled as Stahl was picked off by Brady Geier at the Cavalier 30-yard line. Geier sprinted the other way for a 70-yard return touchdown that made the score 14-0 with just over two minutes left in the first half.
Coldwater picked up touchdowns in the third and fourth quarters. The third-quarter score came after St. Henry started the third quarter with a four-and-out. Cavalier quarterback Steve Borger found Craig Wellman for a 33-yard strike to put the ball on the St. Henry 16. After a one-yard gain, Borger found Ryan Gerlach for a score through the air to make it 21-0.
The final score came with a big knockout punch. Coldwater looked to punt from the 38, but the snap went to up-man (Heinl), who sprinted through the surprised Redskin defense 32 yards to put the ball at the six. Homan needed just two rushes to get the final Cavalier score of the night with just under 10 minutes left to go in the game.
"I really expected this game to be back and forth. I didn't think it would be a high-scoring game," said Reed. "(St. Henry) is a very good team, no question about it. I think this is the eighth time in a row we've beaten them. We're not eight years better than them, that's for sure."
Borger finished with 128 yards passing and another 74 rushing to lead the Cavaliers. Wellman finished with five catches for 65 yards.
Coldwater returns to Cavalier Stadium on Friday to face Parkway in the annual homecoming game. St. Henry will get a chance to scout on Friday before heading up to Lima to face Lima Central Catholic on Saturday night.