By Marc Tobias
mtobias@dailystandard.com
For the second year in a row, Versailles took home the Midwest Athletic Conference golf title, and for the second straight year it was the Tigers' Devin Chrisman taking home medalist and Player of theYear honors at the Fox's Den Golf Course in Celina.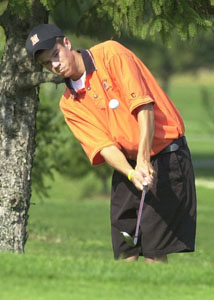 Versailles shot 309 to win the tournament while St. Henry came in second with a 313. Minster came in third at 323.
Chrisman shot a 73, while teammate Max Frey and St. Henry's Kyle Uhlenhake were three back with rounds of 76.
"It was a decent round, it was pretty good today considering how I've played lately," Chrisman said. "I was focused on it (Player of Year honors), but it was a lot harder then I thought it'd be. I think the conference was tougher this year."
Frey's round was equally impressive when you considered he started seven-over-par after the first five holes. "After that, I was about to give up and just try to break 90, but I decided to stick around and see if I could get lucky and get in the 70s. I ended up paring the back and then I had two holes to play on the front and I finished birdie, eagle," Frey said. "We knew we had a good team, but we played St. Henry a couple days ago at our place and that was a really tough match. So we thought they would really pose a threat and we knew we had to play good."
Ryan Schlater added a 78 for the Tigers while Nick Selhorst rounded out the top four with an 82.
"Our five-man ended up shooting a 78 so he ended up coming through for us," Frey said. "That's what we've been looking for all year, for our five-man to shoot in the 70s. Now that he did, I think that will help going into sectionals on Tuesday."
St. Henry's Matt Dippold shot a 78, and finished second to Chrisman in the Player of the Year standings, and St. Henry coach Charlie Maier said if it wasn't for illness in an earlier match this year, he would of had a great shot at the Player of Year.
"Especially after he missed one match and got zero points," Maier said. "He could of got another 12 points on there because he's been medalist basically every match he's been in."
Jay Woeste added a 78 for the Redskins while Corey Gerlach shot an 81.
"Well, obviously, we would have liked to finish first, but we had some kids shoot really good scores and that's what I'm interested in," Maier said. "Right now we started playing better as a team. I know Matt Dippold is probably not happy with his 78, because he was two under for several holes, but that's part of golf and he'll bring it back."
Minster was led by Evan Lee's 78 while Jimmy Stechschulte and Matt Purpus shot 81s. Adam Borges added an 83 for the Wildcats.
"The kids played well today, I couldn't have asked for much better," said Minster coach Aaron Homan. "We had an 88, 81 and a couple 83s, so they did really well, I'm very happy for them,"
"He played really well today, he struggled a little with his putter. He said if his putter was on it could of been better, but I'm real happy with Evan's peformance," Homan added.
Delphos St. John's finished in fourth place with a team total of 330 and were led by Matt Webb's 80.
Coldwater was fifth with a 332 total and the Cavaliers were led by a round of 80 from Aaron Evers while Seth Kahle added an 82.
New Bremen was sixth at 339 and the Cardinals Josh Richardson fired a 79 while Parkway was seventh at 355 and was led by Trevor Krogman's 80.
Fort Recovery took eighth with a 363 and Aaron Kahlig's 87 led the Indians.
New Knoxville was ninth at 368 with Jason Shaffer's 86 tops for the Rangers while Marion Local finished 10th with a 370 and Jordan Moeller's 86 led the way for the Flyers.
Joining Chrisman and Dippold on on the MAC first team are Frey, Krogman, Lee, Uhlenhake, Evers, Richardson, Webb, Selhorst, Stechschulte and Coldwater's Kurt Reithaman.

Second team selections were Purpus, Gerlahc, Woeste, Schlater, Barton, St. John's Adam Ricker, New Bremen's Brian Schwartz, St. John's' Nolan Ardner.

Honorable mention selections were Coldwater's Seth Kahle, New Bremen's Craig Eiting, Minster's Max Phlipot, Adam Borges, New Knoxville's Shaffer and Kevin Eshelman, Parkway's Colby Heiser, and Marion Local's Jordan Moeller.