By Kelly Braun
kbraun@dailystandard.com
COLDWATER -- It took Sandy Butler 40 hours and 20,000 beads to turn a gourd into a beaded purse that catches the eye of nearly every woman.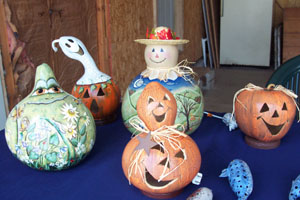 The purse has won 10 ribbons at various gourd shows and fairs and was the talk at a recent display at Pampered Pumpkins, a farm northwest of Coldwater that is open to the public on weekends for craft sales, hayrides, a cornfield maze, pumpkin and gourd sales and more.
Butler of Union City, Ind., began working with gourds four years ago. First she began painting on them, and then about two years ago learned of beading gourds. She researched on the Internet, learned how the Huichol Indians used beads and gourds to make ceremonial bowls and eventually taught herself the art.
A pattern is drawn on the gourd, which then is covered with a special melted beeswax. Butler uses a beading awl to pick up each tiny bead and carefully place it on the sticky gourd. As the thousands of beads in various colors are placed, designs of flowers and stained glass windows emerge.
A lamp made by Butler recently won first place at the Indiana State Fair and Indiana Gourd Show. Next week the piece, resembling a Tiffany lamp, will be displayed at the Ohio Gourd Show. The functional lamp was made using a kettle gourd for the shade, which is covered in beads, and part of a long-handled dipper gourd for the painted base. The piece is a favorite of Butler's and she'll probably never sell it, she said. Especially since she spent 120 hours placing each of the 57,000 beads covering the shade.
Butler said she usually sees a pattern, such as on china, that she likes and then finds a gourd to fit the pattern. Her sister Beverly Shawver of Portland, Ind., grows the gourds.
"I had been looking at beaded purses on the Internet and then thought, 'I could do that on a gourd,' " Butler said with a laugh.
Soon after she found a canteen gourd that was perfect for being dressed up in beads.
A collection of Butler's gourds will be on display at a gourd show Oct. 10 at the Darke County Park District, 4267 state Route 502, Greenville.
Phone: (419)586-2371, Fax: (419)586-6271
All content copyright 2004
The Standard Printing Company
P.O. Box 140, Celina, OH 45822