By Ryan Hines
rhines@dailystandard.com
For the third straight week, Celina was involved in a game that wasn't decided until the final few moments of the game.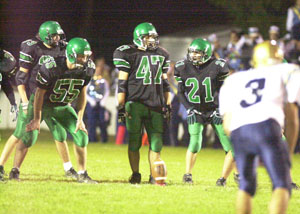 For the first time in those three close games, Celina came away the winner as sophomore kicker Brandon Ley booted a 32-yard field goal with two seconds left to hand Celina 17-14 win in Western Buckeye League action against Bath on homecoming.
Celina improves to 2-4 overall on the season and picks up its first win league play (1-4) while Bath falls to 2-4 overall and 1-4 in the WBL.
"This is a great win for the program because these guys have done nothing but work hard since two-a-days," said Celina head coach Mike Fell. "We've had some plays that haven't gone our way this year, but we went out and won this game tonight because we didn't get any breaks tonight either."
Nursing a seven-point advantage, Celina gave up the tying score as Bath rallied with a 12-play drive covering nearly six minutes of game action before Robert Jenkins took the quarterback keeper for a one-yard score with 3:28 to go in the game. Celina took over offensively at its own 38-yard line with 3:19 left on the clock as the Bulldogs looked for the game-winning score.
Fell looked to quarterback and leader Erik Chapin to direct the game-winning drive and the senior accepted the challenge.
Two running plays by Chapin netted just four yards when he dropped back to pass and hit Matt Paulus for a 10-yard gain leaving the Bulldogs with a four-and-one situation at their own 47-yard line.
With everyone in Celina Stadium anticipating a running play, Fell surprised everyone with a pass play as Chapin ran a bootleg and hit Jordan Heuker for a 15-yard pass play giving the Green and White a first down at the Bath 28-yard line.
Andy Harner then ripped off five yards on a carry before Chapin dropped back to pass again and hit Joe Roberts for an eight-yard gainer for a first down at the Bath 25-yard line.
Chapin, who totaled 100 yards on the ground on 23 carries, then carried the ball on three straight running plays netting 10 yards and first down before Celina called timeout with four seconds remaining in the game.
Chapin played his best all-around game of the season for the Bulldogs completing 9-of-11 passes for 84 yards to go with his 100 rushing yards and first-quarter touchdown while playing a superb game from his safety position. Kelly Mallory had Celina's other touchdown on a nine-yard run in the third quarter.
"We've been working really hard in practice and we were able to get the ball moving on offense tonight and it was just a great team effort to come away with the win," said Chapin. "We were just trying to get the ball into field-goal position on the final drive. I was a little nervous on the fourth-down play, but I knew that Heuker was out there ready to make a big play."
After Bath used a pair of timeouts, Ley calmly strolled onto the field, for the game-winning field goal attempt.
Mike Barger snapped the ball to Scott Felver, who had to scramble to catch the grounded snap and place it on the tee for Ley who kicked the ball through the uprights for the 17-14 Celina lead.
"I wasn't really nervous before the kick because I knew that the guys could do it," said Fell. "It was a great kick by Brandon in a clutch situation."
With just two seconds to go on the clock, Bath returned the kickoff into Celina territory, but the Bulldogs pounced on the Wildcats ball carrier to seal the win.
Turnovers have been the Achilles heel for Celina all season long, but the Bulldogs committed just one turnover, which Bath scored on in the fourth quarter.
"We took care of the ball pretty well tonight," said Fell. "We've had a lot of turnovers this year and we saw tonight that when we take care of the ball, we can move the ball offensively."
Celina is back in action on Friday on the road at Ottawa-Glandorf to face the Titans.
Phone: (419)586-2371, Fax: (419)586-6271
All content copyright 2004
The Standard Printing Company
P.O. Box 140, Celina, OH 45822