By Janie Southard
jsouthard@dailystandard.com
NEW BREMEN -- The village and surrounding area has increased by several tons this summer as a dozen or so residents have grown giant pumpkins in their back yards.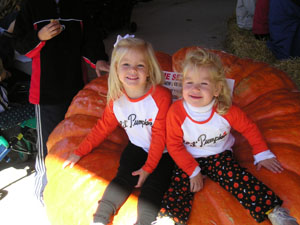 First-time-grower Nate Niekamp's 600-plus pound pumpkin has consumed a lot of his time and even required a baby sitter while the Niekamps vacationed in Montana for two weeks.
"My dad (Dale Niekamp) looked after the pumpkin garden while we were gone," said Niekamp of New Bremen.
Niekamp took second place with a 614.8-pound giant at the first annual Giant Pumpkin Weigh-Off held Sunday at the Crown Pavilion.
Ed Wells of Kettlersville captured the giant pumpkin crown with his 651.8-pound Atlantic Giant. The third-place pumpkin weighed 559.4 pounds and was grown by Dennis Ray of St. Marys. Niekamp, a New Bremen firefighter who traveled to Maryland this weekend for the National Fallen Firefighters Foundation to honor Ken Jutte and John Garman, had his dad haul the pumpkin to the competition at the Crown Pavilion.
Niekamp's giant pumpkin began as they all do with just a small seed, which he got from Jeff Wells, New Bremen's giant pumpkin expert, who hosted a growing seminar last spring for the general public.
"I had my family in the car with me that day but I thought I'd just run in and pick up some seeds." he told The Daily Standard recently on a sunny morning in his back yard. "But Jeff had a really good Power Point and was so informative I got interested. Before I knew it I'd been there an hour and 15 minutes."
As serious gardeners know, there is no such thing as drop the seed in soil and forget it.
"Growing these pumpkins takes a lot of work, beginning with getting the soil in shape. Most soil around here is clay. So you need to work in a lot of compost and manure," Niekamp said nodding toward the compost heap way out in the yard that he's getting ready for next year.
Niekamp's pumpkin garden, which replaced his large salsa garden, is 20-by-20 foot and contained two giant pumpkin plants, which he started indoors.
"You want the vine to vine out for 10 feet before the first bloom. After you select which will be your main vine you need to cover the secondary vines with soil. And you also have to curve the vines because they'll get very long," Niekamp said, adding his main vine was more than 40 feet long.
Niekamp's rule of thumb is to treat the pumpkin as he'd want to be treated.
"If you're hot and thirsty, it's a good bet your pumpkin needs water, too," he said.
Wells said Niekamp did very, very well for a first effort.
For his part, Niekamp said he hopes to give Wells some real competition in a couple years.
Wells, who said he would not compete in the new local contest for a couple years, grew his own giant to 1,170 pounds.
"That's the good news. The bad news is that (the pumpkin) cracked," he said. Wells' goal has been to grown a giant topping 1,000 pounds. (Cracking disqualifies a pumpkin from competition.)
Wells has announced the growers' seminar for next year will meet at noon on March 5 at the New Bremen High School.
"We will provide a beginning seminar on how to grow these monsters, plus give you the seeds," Wells said.
Phone: (419)586-2371, Fax: (419)586-6271
All content copyright 2004
The Standard Printing Company
P.O. Box 140, Celina, OH 45822