By From staff reports
newsroom@dailystandard.com
Celina's three singles players brought home a third and two fourths during Saturday's semifinals and finals.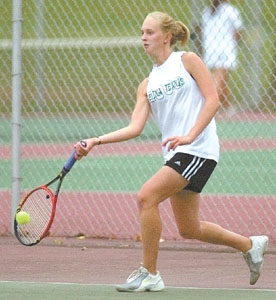 In first singles, Celina's Kelsey Cook lost to Mollee Carpenter of Ottawa-Glandorf 6-3, 1-6 and 2-6 to drop into the consolation match. Cook finished fourth after losing to Shawnee's Kelly Moon 3-6 and 2-6.
Amanda Starnes finished third in second singles, winning the consolation match 6-0 and 6-0 over Katie Wittwer of Wapakoneta. Starnes lost in the semifinals to Elida's Rachel Webb 3-6 and 1-6.
Amy Zender took fourth in third singles, losing to Maureen Connor 1-6 and 5-7 in the consolation. Zender lost to Kaylyn Sheeter 2-6 and 2-6 in the semifinals.
Winning singles titles on the day were Elida's Jamie Hilborn in first singles, Samantha Medina of Shawnee in second singles and Stacy Moon of Shawnee in third singles. In the doubles, the only local team to make it to Saturday was the St. Marys tandem of Dana Wilker and Alyshia Moore. The pair finished third in second doubles, beating Bath's Jennifer Bowman and Amy Miller 0-6, 7-6 and 6-0 in the consolation.
The doubles team of Jenna Purdy and Anna Adkins of Elida won the first doubles title with the second doubles title going to the Shawnee team of Shaina Gerad and Laura Goetz.
Thanks to a 9-0 regular season mark and a first-place showing in the tournament, Shawnee won the overall WBL title. Elida was second with Celina third while St. Marys placed eighth.
FOOTBALL
Redskins rebound with romp
Jon Hemmelgarn had three touchdown runs as St. Henry rebounded from its first loss of the season with a 42-7 drubbing of Lima Central Catholic on Saturday at Lima Stadium. The Redskins improve to 5-1 as the Thunderbirds drop to 2-4.
Hemmelgarn had scoring runs of 32, seven and four in the game, finishing with 151 yards on 17 carries. Andy Puthoff also had a big night, scoring on runs of five and three.
Nate Stahl connected with Brady Schmitz on a 50-yard pass for another score as Stahl was 6-of-9 passing for 124 yards on the night. Jon Clune connected on all six of his point-after attempts.
The Redskins rushed for 259 yards in the game and had 383 total yards, holding LCC to just 21 yards. The Redskin defense also picked off two LCC passes and recovered a fumble.
St. Henry stays on the road this Friday with a road trip to Parkway.
CROSS COUNTRY
Tigers hold off Wildcats at Botkins
The Botkins Invitational, nicknamed "The Best in the West,' brought together some of the top teams in the state poll for big races.
The girls varsity race proved to be the biggest as the state's top three girls teams in Division III squared off.
It turned out to be nearly the exact finish of last year's Division III state meet as Versailles won the team title with 49 points. Minster, which finished third at state last year, traded places with runner-up Fort Loramie and took second with 59. Loramie was third while St. Henry finished 10th.
The Tigers did the work by placing its six scoring runners in the top 20. The trio of Caitlin Liette, Kristen Smith and Kristen Grillot went fifth through seventh to lead the way.
Brigette Sherman of Minster placed second behind Anna running ace Sarah Schulze. Cecilia Slonkoksy finished 10th with Kara Niekamp 13th.
Janelle Brunswick paced St. Henry with a 29th-place showing.
In the boys varsity race, Versailles made it a sweep with a score of 70 points. Minster was seventh with Fort Recovery 11th and St. Henry 14th.
The Tigers' Jared Henderson was the first local runner across the line, finishing fifth. Casey Heckman of Minster was eighth, Derrick Huelskamp of Fort Recovery placed 16th and the first Redskin to finish was Kris Schlater in 36th.
Runnin' Women tops at Fairmont
Celina used four finishers in the top 17 to win the girls Division II-III title at the Firebird Inviatational on Saturday at Kettering Fairmont.
The Runnin' Women came away with a team score of 65 points as Milton-Union was second with 92.
Katelin Smith paced the Celina team with a fifth-place showing. Jenn Blacketer was 13th with Heather Petrie and Melissa Roth taking 16th and 17th.
The Celina boys finished 13th out of 23 in the Division I boys race with 396 points.
Grant Riesen was the first Bulldog across with a 43rd-place showing while Chris Johnson was 62nd.
Rangers, 'Riders compete at AE
New Knoxville and St. Marys competed at the Allen East Mustang Invitational on Saturday, faring well in a competitive field.
In the smaller school White Division, the Ranger girls finished third with 72 points as Hannah Spieles paced the Rangers with a third-place finish.
The New Knoxville boys did not field a team, but had a strong showing from Samuel Wierwille, who took fifth.
In the Blue Division, St. Marys finished fourth in the boys and third in the girls. Jason Durkee placed fourth for the Roughrider boys while Kimber Brown was the first Lady Rider across, taking eighth.
VOLLEYBALL
Wildcats third at Shawnee
Minster and New Knoxville helped snare two top-four spots for the MAC at the Shawnee Invitational by beating fellow MACster New Knoxville, 25-20, 25-9 in the third-place game.
Minster opened the tournament with a 25-15, 23-25, 15-13 win over St. Marys before losing to eventual runner-up Elida, 28-26 and 25-19. New Knoxville beat host Shawnee 25-18, 25-19 in its opener before losing to tourney champ Kalida 25-23, 25-18 in the semifinals.
St. Marys rebounded after the opening loss to win its final two games.