By Gary R. Rasberry
grasberry@dailystandard.com
DELPHOS -- It was a night for the Fort Recovery Indians where one step in the wrong direction was costly.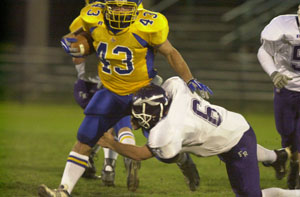 St. John's scored three of its rushing touchdowns on runs of 45 yards or more, added a punt-return touchdown and shut most of Fort Recovery's offense down in a 41-0 win at Stadium Park on a homecoming Saturday night.
The win allows the Blue Jays to rebound from last week's loss to Versailles and improve to 4-2 overall and 3-2 in the Midwest Athletic Conference. Fort Recovery drops to 1-5 overall and 1-3 in the MAC.
The Blue Jays rushed for 328 yards against the Indians and 180 of that came on three big touchdown runs.
Matt Shumaker chimed in on two of them, rushing for a 65-yard and 45-yard score within a span of almost 31/2 minutes in the second quarter. In the final quarter, Andrew DeWitt came in and broke several tackles for a 70-yard touchdown that completed the scoring for the Blue Jays. St. John's coach Todd Schulte was very happy with his team's play, which resulted in no penalties.
"I was just proud of my kids. There was no letdown this week," said Schulte. "I thought we were very efficient in what we were doing. We played very aggressive and made some big plays on defense. We had some turnovers and some nice special teams play."
The special teams provided the Blue Jays' first score. Fort Recovery had to punt on its second possession of the night. Shawn Stein booted a shot that Cory Kundert snagged at his 46-yard line. Kundert zigzagged through some defenders to find open pasture and put the jets on to come away with the opening score with 7:05 left in the half.
The Blue Jays looked ready to score on their next possession but quarterback Spencer Wells fumbled and Tyler Wuebker picked it up for the Indians on the Tribe 9. Three plays later, though, it was Fort Recovery signal caller Mark Willmann giving up the ball, getting picked off by Curtis Laudick on the 13. John Clark ran it in on the first play to make it 14-0.
"You can't do that against good teams," said Fort Recovery coach Mark Fenik about giving the Jays a short field. "Then they had the punt return for another touchdown. At that point you're thinking 'Okay, we gave up two silly ones, but let's try to keep in this thing. We had a nice kickoff return down to the 12, didn't convert and turned it over. Shumaker then broke a couple of long ones. We were doing a fairly decent job coralling him before he got going, but once he gets going, we don't have anyone to catch him."
After Shumaker's two scores rounded out the half, the Blue Jays took the kickoff in the second half and went 65 yards. The last six yards were from Adam Bockey, who usually plays defense but had a special opportunity to score.
The Blue Jays were heading to the east end zone, where Bockey's mother, who has multiple sclerosis, watches the games from a camper parked outside the field. Bockey ran the ball in from a yard out on his second run right in front for his mom to see.
The second half saw both teams put the subs in the game, with DeWitt taking full advantage with 90 yards on five carries in the late third and fourth quarters.
Shumaker finished with 202 yards on just 13 carries, adding a 41-yard non-scoring run to go with his big TD runs.
Fort Recovery returns to Barrenbrugge Park on Friday to face Marion. St. John's will hit the road for its non-conference week against Lehman. That game will be played at Alexander Stadium in Piqua.
Phone: (419)586-2371, Fax: (419)586-6271
All content copyright 2004
The Standard Printing Company
P.O. Box 140, Celina, OH 45822