By Shelley Grieshop
sgrieshop@dailystandard.com
A Celina High School senior was critically injured Monday night when the pickup truck she was driving was struck by a semitrailer at the intersection of state Route 29 and Riley Road.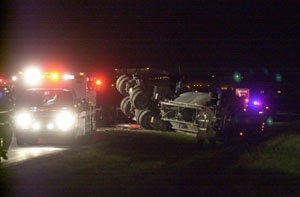 Jamie Siefker, 17, 7260 Four Turkey Road, Celina, was upgraded this morning from critical to serious condition in the intensive care unit at Miami Valley Hospital, Dayton. She reportedly suffered severe head injuries after being ejected from the truck onto the roadway.
Siefker was taken to the Dayton hospital by CareFlight helicopter from Joint Township District Memorial Hospital, St. Marys.
The driver of the semitrailer, Joseph Temple, 30, of Tipton, Ind., was treated for minor injuries then released from the St. Marys hospital.
Siefker, an All-Ohio Softball player and current starter on Celina's volleyball team, is the daughter of Bill and Janet Siefker. The report from the Wapakoneta post of the Ohio State Highway Patrol said Siefker was driving south on Riley Road at about 9 p.m. when she failed to yield at the stop sign. She drove into the intersection of state Route 29 where her 1997 Ford Ranger truck was struck by the westbound semitrailer driven by Temple.
The semitrailer veered across the median and jackknifed; the pickup truck slid off the right side of the roadway ejecting Siefker who was not wearing a seat belt, the report said.
Both vehicles sustained severe damage and were towed from the scene. Traffic was backed up for several hours, the report stated.
Members of the Celina High School and junior varsity volleyball teams met early this morning to discuss whether to call off tonight's game against Ottawa-Glandorf. Siefker's sister, Nicole, is a member of the junior varsity volleyball team.
It's a big game for the Celina team which has won 36 straight Western Buckeye League games. O-G is currently fifth in the state.
"It was Ottawa-Glandorf who called us right away this morning after hearing about the accident and asked if we'd rather postpone the game," Celina High School Athletic Director Dan Otten said.
Otten said the girls feel Siefker would want them to play. Otten and high school volleyball coach Nikki Etzler decided to make the decision later today.
"The O-G coach was great. Their team agreed to let us call off the game anytime today if the girls decide they aren't up to it," Otten said. "Emotionally, I'm not sure they're ready for this."
Otten said the volleyball players, whenever they play next, plan to wear some type of symbol on their uniform to show their support for Siefker.
Phone: (419)586-2371, Fax: (419)586-6271
All content copyright 2004
The Standard Printing Company
P.O. Box 140, Celina, OH 45822