By Shelley Grieshop
sgrieshop@dailystandard.com
A Parkway High School sophomore was killed late Tuesday afternoon in a single-car accident just three miles from her home in Mendon.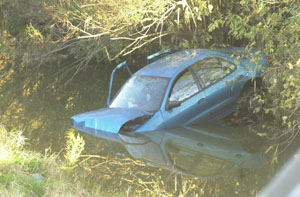 Brittany Shaffer, 15, 11661 state Route 707, was pronounced dead at the scene of the 5:28 p.m. accident on Tomlinson Road, south of the Van Wert county line.
Shaffer is the daughter of LeighAnn and Jim Shaffer, a local school board member and owner of Jim Shaffer Realty.
She was a passenger in a car driven by Trisha Strawn, 17, 101 N. Washington St., Mendon, who was listed in serious condition this morning at Parkview Memorial Hospital, Fort Wayne, Ind. The Parkway High School junior was taken to the Indiana hospital following initial treatment at Van Wert County Hospital.
Family members said the two girls were friends and both members of the school's golf team. The pair was heading home from a sectional golf tournament in Kalida when the accident occurred. The Mercer County Sheriff's Office said Strawn was southbound on Tomlinson Road when she lost control of the 1997 Chevrolet Cavalier. Shaffer reportedly was ejected from the car as it rolled down an embankment into Kyle Prairie Creek, the report said.
The sheriff's report did not indicate whether Strawn was wearing a seat belt or what may have caused her to lose control of the car.
Shaffer's death marks the eighth traffic fatality in Mercer County this year -- four of the victims being teenagers from the local area.
Brittany Shaffer was looking forward to getting her driving permit next month, her mother told The Daily Standard this morning. Shaffer was a member of the high school choir and the Trailblazers 4-H Club.
"She loved to ride her horse, Mandy," LeighAnn Shaffer said as she cried recalling her daughter's smile.
Jim Shaffer wept and his voice shook with emotion while talking about his only little girl. The couple has two other children, Brian, 18, and Brad, 11.
"What a loving, caring girl she was, always had a smile for everybody," he added.
Brittany played volleyball last year and was a statistician for the boys varsity basketball team this year.
A lot of tears were being shed this morning as students arrived for class at the school in Rockford, high school Principal Greg Puthoff said.
"We held a brief moment of silence this morning for both girls and their families," Puthoff said. "We have several ministers and priests in our library to help the students and staff cope and about 15 to 20 students are in there right now. Most of them are the girls' closest friends and others who've been touched by tragedy recently."
Puthoff said he encouraged the teachers to talk to the students about Shaffer if they were comfortable doing so. He planned to follow Shaffer's schedule today, himself, to monitor how the students are coping with the empty chair in each of her classes.
The school is scheduled to hold their annual homecoming dance this weekend but Puthoff isn't sure the students will want to go through with the festivities in light of the recent tragedy.
"We're going to talk with the kids and let them decide. We want them to know we support them no matter what," he added.
Funeral arrangements for Shaffer were incomplete this morning at Dick & Sons Funeral Home, Mendon.
Phone: (419)586-2371, Fax: (419)586-6271
All content copyright 2004
The Standard Printing Company
P.O. Box 140, Celina, OH 45822