By Ryan Hines
rhines@dailystandard.com
Celina's unbelievable Western Buckeye League winning streak has finally been halted.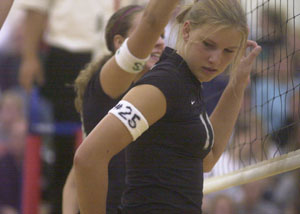 The Bulldogs had racked up 36 straight WBL wins and it took one of the top teams in the state to end the streak as Ottawa-Glandorf defeated Celina, 25-16, 25-18, 25-17 on Tuesday night.
The Titans, ranked fifth in the state in Division II, improve to 14-0 overall and 6-0 in the WBL while the Bulldogs fall to 11-5 overall and 5-1 in league play.
A fourth straight WBL crown is not out of the question, though, but Celina must take care of its own business by running the table in the rest of the WBL games (Wapakoneta, Defiance and St. Marys) while also getting help from at least one other WBL team.
Celina plays Defiance, which has one loss in the WBL, at home on Thursday in another tough matchup for the Green and White. O-G must also still play Defiance, along with Shawnee and Kenton to finish out the league slate. "O-G is a great team and we knew that coming in," said Celina head coach Nikki Etzler. "I have told the girls each season that it's a new year and we don't look at it like we have to keep the streak going each match. I think that the winning streak was great but we approach each match to win the match, not just to keep the winning streak in the league going. I think that there is always a lot to learn from a loss and I think that we can learn a lot from this loss and get better from it. O-G still has a tough game against Defiance, and games against improving Shawnee and Kenton, so we still have a shot at the league."
"This was a huge match for us," stated Ottawa-Glandorf head coach Ann Ellerbrock. "I went out and scouted them twice and we knew that they would be fundamentally sound. I think that when we beat them in the tournament last year that was a huge win for our program because we were finally able to get over the hump against them. I think that our girls are now confident against Celina after the tournament win and they got the monkey off their back. We just have to take it one game at a time in the league from here on out."
The marquee matchup in the WBL on Tuesday almost didn't even happen after Celina senior, and starter, Jamie Siefker was seriously injured in an automobile accident on Monday night.
"We met with the girls this morning and it was emotional," said Etzler. "We talked about whether we should play the game at all but the girls really wanted to play instead of just fretting about what had happened. They were ready to play tonight. It was a tough situation to play through, but I'm really proud of the girls and the way they played. We all have Jamie in our prayers and we're hoping for the best."
"Losing a player of Jamie's caliber is tough for ay team to handle," said Ellerbrock. "She does so many things well for them and she was definitely missed. It's just too bad that something like that had to happen to keep her off the court. We thought that Celina was going to rally behind the emotion and they did early on, but we came with our 'A' game and just played well."
All of Celina's players wore wristbands around their arms with the number 25 wrote on it representing Siefker.
Despite the obvious emotional state of Celina's players, the Bulldogs played well, just not well enough against a far superior team.
Celina held early leads in all three games, but at about the midway point in each game, Ottawa-Glandorf was able to right the ship and cruise to the three-game victory.
With Ottawa-Glandorf leading 13-12, midway through game one, the Titans got their star player Shelly Bellman behind the service line and she responded.
Bellman reeled off three straight service points, including an ace and Celina made two errors leading to a Bulldogs timeout with the Titans in front, 16-13.
Kelsey Fleck ended the O-G run with one of her team-leading 12 kills on the night, but the Titans came right back with a four-point swing behind the serving of Andria Niese to go on top, 20-14, before winning game one, 25-16.
In game two, Celina held an early three-point lead and trailed just 13-11 before O-G began to pull away.
With Kelsey Elliott behind the service line, the Titans went on a
five-point run behind the serving of Elliott. Elliott had two aces during the run as Celina had trouble with serve reception all night long. O-G had nine aces in the match while Celina made seven additional serve reception errors.
"When we scouted them I knew that they had a couple of passers that if we were able to get them rattled that we would be okay," said Ellerbrock. "We've been practicing very aggressive serving and we did that tonight and used it as an advantage."
With O-G leading 22-14, Celina made a minor comeback off of three Titans errors and a Fleck ace to pull within four points before falling 25-18 in game two.
In game three, Celina led 3-1 early before a six-point O-G run,
helped by three straight Bulldog serve reception errors, gave the Titans a 7-3 lead. Celina stayed within five points until O-G reeled off another five straight points to take control of the match and winning, 25-17.
"We had trouble in all three games around the 10-15 point mark," acknowledged Etzler. "We had an early lead in all three games but we didn't execute during the 10-15-20 point area and O-G took advantage."
Other than serve reception, Celina played fairly well, but it was the hitting power of the Titans that was the different.
Bellman, who has already to committed to attend the University of Cincinnati on a full-ride basketball scholarship, was the top gun for the Titans with a game-high 17 kills while Elliott added 11 kills. O-G sensational freshman, Madalyn Shalter also added six kills.
"We know that teams are going to key on Shelly because they have done that for three years but we now have other girls that take advantage of the open opportunities that Shelly gives them," explained Ellerbrock.
In addition to Fleck's 12 kills, Betsy Hone added eight kills for the Bulldogs.