By Shelley Grieshop
sgrieshop@dailystandard.com
The Grand Lake St. Marys area is becoming a hot tourist spot for dozens of unusual looking snow-white, long-legged birds called great egrets.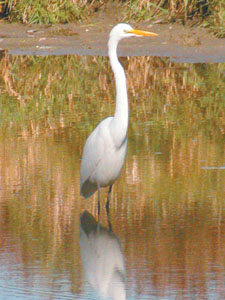 Great egrets have been taking up residence each summer in several areas around the lake, particularly near a small channel that flows near the U.S. 127/Johnston Road intersection. The species is not native to this area and likely migrates here from either the Great Lakes region or the southern states.
"I counted about 19 of them one morning," says Jerry Meiring, who owns property in the area.
Sipping coffee on his back patio, Meiring, 44, says he sees the beautiful birds of all sizes fishing for minnows and shad nearly every day.
"About 7 to 8 o'clock each morning they're out here, but then they clear out. I don't know where they go after that," he says. His girlfriend, Valerie Cryer, says it's not unusual to see a half dozen or so of them in a circle like anglers waiting to nab the "big one."
"The blue herons always chase them away," she added. "The herons are not nearly as pretty to look at."
The couple say the all-white wading birds, usually associated with the Florida coast, arrive near their home south of Celina in late June or July and can be seen through late fall.
Great egrets are a cousin to the blue heron and stand as tall -- an average 32 inches. They have a wingspan of 55 inches with long black legs and a thick orange-yellow beak. Their neck is curved like an S when they fly, just like herons, and their feathers appear somewhat fuzzy.
Dan Frevert, a spokesman with the Ohio Department of Natural Resources (ODNR) Division of Wildlife, said the population of egrets, in general, is growing across the United States.
"Sighting them in Ohio is not rare, but it is unusual," he said.
A significant number of great egrets nest each year in the western basin of Lake Erie on West Sister Island. An estimated number of 700 pairs were noted there in 2003, the largest breeding ground near Ohio.
Older records, deemed somewhat unreliable by ODNR, show great egrets nested in the Grand Lake St. Marys area in the 1880s. Other ODNR documentation, also considered somewhat unreliable, shows breeding was established again locally in 1942 when a pair of egrets produced young within a heron colony at the southwest corner of the lake -- the same area where the Meirings spy them each morning.
That same area is just several hundred yards from a large rookery on the Mercer County Wildlife Refuge, and in the same vicinity that North American bald eagles have nested the last several years.
Mercer County Wildlife Officer Ryan Garrison is less optimistic. Garrison said he's never spotted egrets nesting near the lake during frequent fly-overs by helicopter.
"It is a wetland bird that likes to feed in shallow water like the heron, but I believe the ones we see during the summer have just migrated here," Garrison said. "I don't think this is the type of habitat they prefer."